With another 200,000 immigrants forced to leave, why Donald Trump is consistently anti-immigrant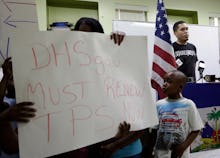 Welcome to Mic's daily read on Donald Trump's America. Want to receive this as a daily email in your inbox? Subscribe here.
Tuesday's dispatch: Why Trump is consistently anti-immigrant
President Donald Trump's tweets about his own "genius" have led many to question whether he is mentally stable. The White House now wants to pivot conversation away from the dialogue that has led to days of pundits and politicians questioning Trump's fitness to be president.
Monday, however, showed that the Trump administration remains far from erratic, with its continued commitment to controversial, isolationist policy.
More than 200,000 immigrants from El Salvador were informed Monday that they will lose their protected status in September 2019. Many of these immigrants have lived in the U.S. since 2001, when an earthquake struck the small Central American country.
In November, 59,000 Haitians living in the U.S. since 2010 had been told their Temporary Protected Status will end July 22, 2019. In addition, nearly 6,000 Nicaraguans living in the U.S. since 1999 were notified in November that their TPS would end.
With these moves, the Trump administration has nearly wiped out a program that lets more than 300,000 immigrants live and work in the United States. TPS for 86,000 Hondurans was extended from November and will be reconsidered in July 2018.
This came a day before Trump's meeting Tuesday with Senate Republicans and Democrats to discuss a deal on immigration. Nearly a year after his inauguration, Trump has stood firm in his demand that any protections for immigrants be met with funding for his border wall with Mexico.
Deferred Action for Childhood Arrivals is a better-known program that has a similar function to TPS: It allows nearly 800,000 undocumented immigrants to remain in the U.S. legally. For months, polls have shown a majority of Americans, including Republicans, want to see DACA recipients protected following Trump's decision in September to suspend the program after six months.
Yet Trump's policy is fueled by an understanding that his promises to build a wall and curb immigration were key to his election victory. Putting the lives of more than 1 million immigrants in limbo is consistent with his moves to increase deportations away from borders, cut the number of refugees entering the U.S. and limit immigration from several Muslim-majority countries.
Broadly, Republicans want less immigration, while Democrats support it. As conservatives and liberals in Congress continue negotiations over DACA, both sides will have to contend with those views from their bases.
Today's question: Do you think Republicans and Democrats will ever strike a deal on DACA?
Please email us at trumpsamerica@mic.com with your thoughts.
Tuesday in Trump's America:
Watch this: A right-leaning TV company, Sinclair Broadcasting, reaches nearly three-quarters of U.S. households. Now the company is buying a leading TV station in Des Moines, Iowa. Sinclair is known for its friendliness to the Trump administration. For example, corporate HQ requires its stations to run several segments each week with a Trump White House official. The number of viewers watching local news is dropping, but more than a third of Americans still watch it regularly.
Shutdown-watch: Tuesday's immigration meeting will tie into larger conversations about a budget deal to keep Washington running in the long term. But Republicans, who control Congress, say a long-term deal to fund the government is unlikely given Democratic demands to protect DACA recipients in a deal this month.
Genius-watch: More than a dozen Senate and House Republicans declined to tell CNN Monday that they agree with Trump that he is a "very stable genius."
Oprah-watch: Calls for "Oprah 2020" grew Monday after her acceptance speech at the Golden Globes Sunday night. Meryl Streep told the Washington Post she would love to see Winfrey run for president. Fourteen pundits gave Politico their thoughts on whether Winfrey should run; several think she has a shot.
NBC said a tweet Sunday calling Oprah "OUR future president" was not a political statement, and it was not sent by the news division.
2018 wave-watch: Vice President Mike Pence is planning to campaign aggressively in swing state House races, the Wall Street Journal reported. Republicans say they will run on their 2017 record of cutting regulations, hardline immigration policy and passing tax reform in a bid to avert the loss of seats the president's party historically sees in midterm elections.
On the tax front: The tax bill Republicans hurried through Washington in late 2017 may make moving factories outside the United States a better financial deal for companies. "It's sort of an America-last tax policy," one economist told the New York Times of the provision.
Senate races: Hillbilly Elegy author J.D. Vance is being urged to run as a Republican for Senate in Ohio after Ohio Treasurer Josh Mandel ended his bid for the GOP Senate nod to take on Sen. Sherrod Brown (D-Ohio).
House races: The 17th House Republican this cycle has chosen not to run for re-election. Rep. Ed Royce (R-Calif.) will not seek another term, creating a major pickup opportunity for Democrats in Royce's Southern California seat.
#MeToo at the White House: Former labor secretary nominee Andy Puzder is on the White House's shortlist for a new position. Puzder's labor nomination was withdrawn in 2017 after allegations of domestic violence resurfaced.
Reagan references: Why Trump may be making a case for being mentally unstable by referencing Ronald Reagan.
North Korea: The nation will send athletes to the Winter Olympics in South Korea. The decision is symbolic but shows North Korea opening up to negotiations with its southern neighbor.
Today's MicBite:
Is Steve Bannon a mastermind of the Trump movement? Or was that all spin? Click or tap below to find out.