How major spending by large and small Democratic groups may swing the 2018 midterms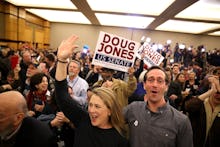 This year's galvanized electorate, plus historical trends, indicate that the Unites States is likely to see Democratic wins in November's congressional and state elections. And now, spending among outside groups that are looking to help the Democrats take seats appears to be adding to the party's advantage.
Mic contacted 37 Democratic organizations and outside groups to gauge their planned investment in the 2018 elections.
Eleven organizations that responded to Mic or have publicly announced their 2018 plans said they aim to spend a total of $279 million on electing Democrats from state legislatures to the U.S. Senate. That includes spending on advocacy — like TV ads tying Republican congresspeople to the unpopular tax plan.
For several organizations, this midterm election cycle will mark their largest investment ever.
Priorities USA, the top super PAC that backed Hillary Clinton's campaign in the 2016 election, plans to spend $50 million on digital ads — more than it spent during the presidential race and the first time the Super PAC will spend in a midterm election. Planned Parenthood Action Fund, which spent $30 million in 2016, will aim to spend the same amount again. And the League of Conservation Voters, which spent $45 million, also hopes to match its 2016 spend in 2018.
Meanwhile, 2018 will bring a host of legacy groups spending big bucks for the first time. The American Civil Liberties Union recently announced $25 million in spending to oppose Republican agendas during the midterm elections. Progressive organizing group MoveOn will spend $15 million, the most since 2008. The Democratic Legislative Campaign Committee and the National Democratic Redistricting Committee — both Democratic groups focused on hammering the GOP at the state level — will spend $35 and $30 million, respectively, through the fall.
"There is certainly, at this stage, more enthusiasm and more activity on the part of national organizations, state coalitions and [communication] organizations than I saw in any ... previous midterm elections," Guy Cecil, chairman of Priorities USA, said in an interview. "There are certainly more financial commitments. There are more coalitions being built earlier than I saw in 2010 or 2014."
The total Democratic spending in 2018 is likely underestimated by Mic's initial survey, as major party organizations and outside groups alike, which traditionally spend tens of millions of dollars backing Democrats, said it's too early to share their spending projections. The three top Democratic party groups — the Democratic National Committee, Democratic Congressional Campaign Committee and Democratic Senatorial Campaign Committee — all said they're unable to share spending projections yet.
Several unions — top-10 donors whose support of Democrats in the 2014 midterm elections amounted to tens of millions of dollars — did not immediately respond to requests for comment on their planned 2018 spending.
But Democrats will need outside spending will be needed in 2018, as the Republican National Committee far outpaced the DNC in fundraising in 2017. The DNC has raised about $61 million in the 2017-18 cycle, while the RNC has raised more than $121 million. On Tuesday, the two groups linked to House Speaker Paul Ryan — the Congressional Leadership Fund super PAC and its sister organization, American Action Network — reported raising $66 million in 2017 to protect the GOP House majority.
That doesn't mean individual Democrats have not been raising significant funds, though. As of Sept. 30, the most recent available financial filing date, 145 Democrats challenging Republican House incumbents had raised at least $100,000 each, according to the Campaign Finance Institute. At least 391 had raised at least $5,000.
At the same time in 2009, before the 2010 midterm elections swept House control to Republicans, only 69 Republican challengers had raised at least $100,000, and just 184 had raised at least $5,000.
2018 will prove to be the first major test for new Democratic groups, as well as old players attempting new investments.
NextGen America, backed by Democratic megadonor and California billionaire Tom Steyer, announced on Monday that it will spend $30 million focused on contacting half a million young voters in competitive U.S. House races. Steyer and his wife were the top individual donors during the 2014 and 2016 election cycles.
The National Democratic Redistricting Committee, launched in 2017, is bringing previously unseen resources to Democratic campaigns at the state level. The $30 million the group is planning to spend will come in conjunction with $35 million from the DLCC, the longtime Democratic party player at the state level. Democrats have lost nearly 1,000 state legislative seats since 2010.
The DLCC's planned spending in the 2018 cycle nearly doubles how much the group has spent in any election cycle at least as far back as 2004.
Since the 2010 Citizens United Supreme Court decision, when corporations were given the green light to contribute unlimited money into elections, midterms have seen a massive infusion of money from outside groups.
Democratic and Republican candidates spent more than $1.9 billion was spent on U.S. Senate and House races by that year. And $309 million was spent by outside groups. By 2014, $1.7 billion was spent by party candidates — but $566 million was spent by outside groups.
The $279 million that the 11 Democratic-supporting groups alone told Mic they would spend through the 2018 elections suggests an unprecedented level of outside spending is possible in the 2018 elections.