The Weeknd cuts ties with H&M as LeBron James, Diddy and more slam the brand over hoodie controversy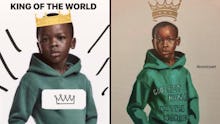 Just three months after dropping his sophomore collaboration with H&M, The Weeknd is severing ties with the Swedish retailer in the wake of swirling controversy.
"Woke up this morning shocked and embarrassed by this photo," he wrote on Twitter Monday afternoon. "I'm deeply offended and will not be working with H&M anymore."
On Sunday night, images circulated on social media depicting a black child model adorned in a sweatshirt with the words "Coolest Monkey in the Jungle." The backlash was immediate, with many on Twitter calling the brand racist for its misstep. In referring to a black person as "monkey," H&M called up America's troubling history of referring to black people as animals.
On Monday afternoon, the conversation was elevated when a number of prominent celebrities weighed in the matter, many denouncing the brand, some even advocating for a boycott.
It started with recording artist Chris Classic, who doctored a photo of the sweatshirt with the text erased, replaced by an image of a crown (a gold crown was also placed atop the young man's head). "I made this because I don't wanna see this young King's face anymore with the shirt he was hired to wear by H&M. ... I just hope he gets to see this one or any like it that celebrate him," he said.
Azealia Banks then reposted the image hours later, promising to boycott the brand, comparing this to the many missteps of Dolce & Gabbana, which has in the past come under fire for selling "slave sandals."
"People are always trying to fuck around on black people's time, and it's just a bit corny at this point," she wrote. "I don't have to protest; just stop buying H&M."
After one user commented that they had questions for the parents of the child, Banks again weighed in, stressing that the company should shoulder the responsibility for creating the shirt. "You never know the backstory. Those parents could have really needed the money to pay bills and eat. You never know what people have going on at home."
Then Diddy, T.I., LeBron James and more added their voices to the conversation. Diddy reposted in image from artist Kervin Andrew, which featured another doctored version of the sweatshirt, this one reading: "Coolest King in the World."
"Put some respect on it!!" Diddy wrote. "When you look at us, make sure you see royalty and supernatural God-sent glory!! Anything else is disrespectful."
T.I. added his voice in the mix, also reposting Classic's image, tagging H&M to tell them "I think this is what you meant to print."
Then the king spoke out, LeBron James, himself having been entwined in a controversy over a 2008 Vogue cover that some called out for being racist for comparing him to King Kong. J
ames posted Classic's image to his nearly 35 million Instagram followers with a bold message for the brand. "You got us all wrong," he wrote, tagging H&M. "And we ain't going for it!... We as African Americans will always have to break barriers, prove people wrong and work even harder to prove we belong, but guess what? That's what we love because the benefits at the end of the road are so beautiful!!"
Others to weigh in include Questlove, Pusha T, Plies and YG, all with similar sentiments.
H&M has since apologized and removed the image from the site. "We sincerely apologize for this image," H&M said in a statement to Mic Monday morning. "It has been removed from all online channels and the product will not be for sale in the United States. We believe in diversity and inclusion in all that we do and will be reviewing our internal routines."
On Tuesday morning, the brand issued a public apology on its Facebook page, promising to thoroughly investigate what happened.
It remains to be seen whether the loss of The Weeknd as a collaborator or if folks like T.I and Azealia Banks issuing a public boycott will affect H&M's sales.