"You are indeed part of the problem": Ivanka Trump's tweet on Oprah's speech has critics perplexed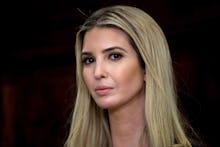 First daughter Ivanka Trump on Monday night tweeted words of praise for Oprah Winfrey's rousing Golden Globe's speech on the recent movement against sexual harassment and assault, calling Oprah's speech "empowering" and "inspiring."
"Let's all come together, women and men, and say #TIMESUP!" Ivanka Trump tweeted of Winfrey's Sunday night speech at the award show in Los Angeles, where the media icon was receiving the honorary Cecil B. DeMille award.
But her tweet had many scratching their heads, given that Ivanka Trump's father, President Donald Trump, is one of the many powerful men who have been accused of sexually harassing and assaulting multiple women.
More than a dozen women have come forward to accuse Trump, including: Juliet Huddy, Natasha Stoynoff, Jill Harth, Jessica Leeds, Ninni Laksonen, Rachel Crooks, Cathy Heller, Mindy McGillivray, Summer Zervos, Kristin Anderson, Jessica Drake, Karena Virginia and Temple Taggart.
"Who should tell her?" MSNBC host Chris Hayes tweeted, while leaders of the Me Too movement took the time to jab the adviser to the president in response to her tweet.
"Great! You can make a lofty donation to the Time's Up Legal Defense Fund that is available to support your father's accusers," actress and Me Too activist Alyssa Milano replied.
And conservative Washington Post columnist Jennifer Rubin said Ivanka Trump's tweet was "clueless."
"This is the most hypocritical, clueless statement in her regrettable time in the WH," Rubin replied to the tweet. "Your father has a trail of victims and supported Roy Moore, Ivanka. YOU are indeed part of the problem Ivanka. #complicit."
And some in the White House were confused by her tweet. Axios reporter Jonathan Swan tweeted that Ivanka Trump's comments "raised eyebrows" in the White House.