The new 'Black Panther' teaser reminds us that the best Black History Month gift ever is nearly here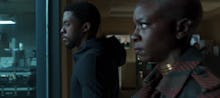 We're less than 40 days away from the new Black Panther movie and tickets finally went on sale on Monday. What better way to celebrate than with a new trailer?
Marvel's upcoming movie is its first film made for black people, by black people. The movie, starring actors like Chadwick Boseman (Black Panther), Lupita Nyong'o (Nakia) and Angela Bassett (Ramonda) will be directed by Ryan Coogler (Creed and Fruitvale Station) and may be one of the best representations of afrofuturism we've seen on the big screen yet.
By Wednesday, Fandango's managing editor Erik Davis confirmed that the movie has sold more pre-sale tickets in its first 24 hours than any Marvel movie. On Monday night, people tweeted their excitement about buying tickets for the highly anticipated film.
The last Black Panther trailer blew everyone away. And on Monday night, the new trailer debuted during the College Football Playoff National Championship. Black Panther's latest trailer is largely similar to the one from October, with new moments sprinkled in. We see Black Panther's humility when his sister Shuri bows in his presence and he tells her to stop. We see Shuri as the fun-loving genius she is, as she pilots their futuristic, pseudo-catmobile and calls her superhero brother a "show off."
And then we see Michael B. Jordan and his douchey take on the villain Killmonger. Who, with lines like, "I hope you're ready, bro," reminds us that Jordan really is playing everyone's college ex-boyfriend in this film.
Most notably, this is the first time we hear vocals from Kendrick Lamar with afrofuturistic visuals. We recently learned that Kendrick would be producing and curating the music for the soundtrack of Black Panther, along with his label boss at TDE, Anthony "Top Dawg" Tiffith. In this newest trailer, we hear sounds of the California rapper alongside an emcee from the very same state, Vince Staples.
It's no coincidence that Black Panther will be released during Black History Month. With a lineup that includes nearly every black person in Hollywood, and many in music too, we're not sure black comic nerds — and even nerds in general — could ask for a better gift this February.
Jan. 10, 2018, 11:00 a.m.: This story has been updated.