Joe Arpaio — known as "America's toughest sheriff" — says he's running for Senate in Arizona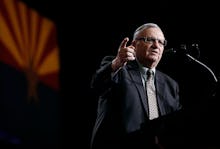 Joe Arpaio — the vehemently anti-immigrant former Arizona sheriff whom President Donald Trump controversially pardoned of a crimial contempt charge over the summer — said on Tuesday that he's running for Senate as a Republican in Arizona.
"I am running for the U.S. Senate from the Great State of Arizona, for one unwavering reason: to support the agenda and policies of President Donald Trump in his mission to Make America Great Again," the 85-year-old tweeted Tuesday morning after announcing his plans in the Washington Examiner.
Arpaio was convicted in July of criminal contempt after he refused to follow court orders to stop racially profiling Latinos.
Trump was widely criticized for the pardon, as it didn't follow traditional guidelines for such a move. Arpaio didn't express any remorse for his crime, nor accept responsibility for it.
Arpaio — dubbed "America's toughest sheriff" during his 24-year tenure — is best known for his treatment of incarcerated people, forcing them to live outside in a "tent city" in the blazing Arizona heat. Even Arpaio himself described the tent city as a "concentration camp" for its harsh conditions.
Arpaio lost re-election in 2016, ending his controversial law enforcement career.
However, he doesn't have a clear path to the Republican nomination for this Senate race to replace retiring Republican Sen. Jeff Flake. Former state Sen. Kelli Ward — another controversial Republican candidate — is also running. Ward is an anti-immigration candidate who's accused Flake of being a "globalist" — a term widely seen as an anti-Semitic dog whistle.
Meanwhile, Rep. Martha McSally (R-Ariz.) is expected to announce her candidacy.
It's possible that Arpaio and Ward would split the votes from Arizona Republican voters who want an insurgent candidate, paving the way for a McSally nomination. But Arpaio told the Washington Examiner he's ready to take both Ward and McSally on.
"I am outspoken. I'm looking forward to it. Let them come," Arpaio told the Examiner. "They'll have their political firing squads and bring tons of money here, because they don't want to lose. I just want to do everything I can to support our president."
Whoever emerges from the primary will face likely Democratic nominee Kyrsten Sinema, who is running for the seat with the support of national Democrats.
The race is currently rated a toss-up by Inside Elections, a non-partisan political handicapping outlet.