These five male celebs are supporting Time's Up. They've also worked with Woody Allen.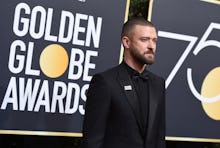 Sunday night's Golden Globes were a sea of black as celebrities donned the color as a form of visual protest against Hollywood's alleged culture of sexual assault. Many male celebs also wore Time's Up pins in support of a massive new initiative to combat workplace sexual harassment.
But some of the men who wore Time's Up pins on Sunday have also worked with director Woody Allen, who has largely escaped the recent wave of retribution for accused abusers despite longstanding allegations against him by his estranged daughter, Dylan Farrow. Allen, for his part, has denied the allegations.
In string of tweets just before the ceremony, Farrow said she planned to watch the ceremony "with optimism, with hope and with the firm belief that there is a brighter future ahead. And I will watch to see if now, finally, time is up for my predator, too."
In a statement to BuzzFeed on Monday, Farrow condemned the "the people who join this movement without taking any kind of personal accountability for the ways in which their own words and decisions have helped to perpetuate the culture they are fighting against." She specifically called out Justin Timberlake as an example of someone who vocally supports the Time's Up movement, yet has praised — and worked with — her alleged abuser.
"It's of course particularly hard for me as a survivor of sexual abuse to know that for these particular individuals I am not part of the 'every woman' they stand for," Farrow said.
There are a small handful of celebrities who've expressed regret about their choice to work with Allen — including Ellen Page, Griffin Newman and David Krumholtz. Lady Bird director Greta Gerwig initially dodged the question when asked about Allen on Sunday, but on Tuesday she told the New York Times, "I have not worked for him again, and I will not work for him again."
However vastly more celebrities who've worked with Allen have stayed silent on the allegations
The following actors who sported Time's Up pins at the Golden Globes have all worked or are currently working with Allen — and have so far had little to say about the allegations against him.
Jude Law
Actor Jude Law wore a Time's Up pin on his tuxedo at the Golden Globe awards on Sunday. Law is also starring in an upcoming Allen film, his first with the director, tentatively titled A Rainy Day in New York. According to a report in Indiewire, Law will play an older, married man who has a flirtatious — albeit not sexual — relationship with a character played by Elle Fanning, a teenager in real life. This echoes an oft-repeated age gap in Allen's films, many of which star young actresses opposite older male actors.
Law hasn't publicly spoken about his decision to work with Allen, but his Time's Up pin indicates at least casual support for a movement explicitly intended to help women report and take action against sexual abuse and harassment. A representative for Law didn't return Mic's request for comment Tuesday.
Steve Carell
Actor and comedian Steve Carell wore a Time's Up pin at Sunday's awards show, which he attended alongside his wife, Nancy Carell. He also appeared with Kristen Stewart, Blake Lively and Jesse Eisenberg in the 2016 Allen film Café Society, a movie the New York Times called "neither another example of bad, late Woody Allen nor much in the way of a return to form."
Carell himself hasn't spoken publicly about the allegations against Allen. A representative for Carell didn't return Mic's request for comment Tuesday.
Justin Timberlake
Actor and singer Justin Timberlake didn't just wear a Time's Up pin over his all-black outfit at the Golden Globes on Sunday — he's also taken a vocal stand on social media, tweeting: "No more accepting sexual harassment and inequality at work as normal. It's NOT normal. #TIMESUP."
He also seems to be a financial supporter of the initiative. The official GoFundMe for the Time's Up campaign lists "Jessica Timberlake and Justin Timberlake" as having made an "offline donation" of $25,000.
Timberlake, who starred in the recently released Allen film Wonder Wheel, told Stephen Colbert in an interview that the chance to work with Allen was a "dream come true." A representative for Timberlake didn't return Mic's request for comment Tuesday.
Hugh Jackman
Hugh Jackman also sported a Time's Up pin on Sunday night. Jackman starred in the 2006 Allen film Scoop, a movie in which Allen also appeared as an actor. That film was released well before the current wave of "reckoning" for alleged perpetrators of sexual harassment and abuse in Hollywood — but long after initial reports of the accusations against Allen surfaced.
A representative for Jackman didn't return Mic's request for comment Tuesday.
Ewan McGregor
Actor Ewan McGregor, who starred in the critically panned 2007 Allen film Cassandra's Dream, also sported a Time's Up pin on the red carpet Sunday night. McGregor has never spoken out about the allegations against Allen, but he has praised the director. In a 2008 interview with the Guardian, McGregor said, "I'd work with [Allen] every time if I could. Loved him to bits. I love the way you have to raise your game for him."
A representative for McGregor didn't return Mic's request for comment Tuesday.
Jan. 10, 2018, 8:40 a.m.: This story has been updated