James Franco denies sexual misconduct allegations in interview with Stephen Colbert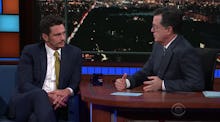 On Tuesday night's episode of The Late Show With Stephen Colbert, host Colbert pressed guest James Franco on recent allegations of sexual misconduct made against him. Colbert also touched on the swirling accusations of hypocrisy on social media when the actor and director showed up at Sunday's Golden Globes wearing a "Times Up" pin to support an initiative meant to combat workplace sexual harassment.
Franco denied the allegations while speaking to Colbert and expressed support for Times Up. "First of all I want to say, I wore [the pin] because I do support it," Franco said. "There were some things on Twitter ... I haven't read them, I've heard about them."
"Look, in my life I pride myself for taking responsibility for things I've done ... the things that I heard that were on Twitter are not accurate, but I completely support people coming out and being able to have a voice ... so I don't want to shut them down in any way."
The most recent allegations against Franco came out after his Golden Globes win for best performance in a motion picture musical or comedy on Sunday night, for his starring role in The Disaster Artist, which he also directed. On Monday, actor Violet Paley publicly accused Franco of sexual misconduct in a series of tweets, writing, "Cute #TimesUp pin James Franco. Remember the time you pushed my head down in a car towards your exposed penis & that other time you told my friend to come to your hotel when she was 17?"
Sarah Tither-Kaplan, another woman and actor spoke out on Twitter on Sunday night, alleging that she had had an exploitative experience working with Franco just "a few weeks ago," and that she had been paid "$100/day" for nudity that she said in a later tweet hadn't been planned out ahead of time.
Speaking to Colbert on Wednesday, Franco didn't mention any specific allegations — although he did reference actor Ally Sheedy by name. Sheedy tweeted, and then deleted, a tweet saying that Franco was "why I left" the entertainment business, the New York Times reported on Wednesday.
"First of all, I have no idea what I did to Ally Sheedy," Franco said. "I directed her in a play off Broadway, I had nothing but a great time with her, total respect for her. I have no idea why she was upset."
Colbert himself didn't press Franco on specifics, nor did he mention a 2014 incident in which a teenage tourist who had been visiting New York posted screenshots of an Instagram conversation that allegedly shows Franco asking her age, and offering to rent a hotel room for the two of them to meet up.
The more recent news around Franco seems to be causing waves, however — the New York Times announced on Tuesday that it was cancelling a planned speaking event with Franco.
"The event was intended to be a discussion of the making of the film, The Disaster Artist. Given the controversy surrounding recent allegations, we're no longer comfortable proceeding in that vein," a Times representative told The Hollywood Reporter in a statement.