12 apps to save money and get fast refunds you didn't even know about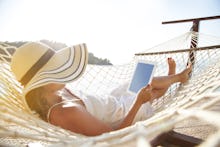 Trying to save money or grow richer? You might expect to need to change up your spending routine or at the very least take more time to think about budgeting. But if you're not too keen on either, there is yet another way to increase your wealth: Automate tasks that help achieve your money goals.
Going automatic has even more going for it than simply being easy. When we automate a task we'd rather not do — whether it's diverting fun money into a retirement account or getting on the phone with your cable company — we also make it harder to cop out or procrastinate.
Our lack of self-control isn't exactly our fault. People are primed to prioritize short-term rewards over long-term ones, even when the payoff is questionable — a point often made by the Nobel Prize-winning economist Richard Thaler.
So rather than relying on willpower alone to accomplish some of the more annoying money tasks you'll likely endure in 2018, take 20 minutes and delegate some of that work to a service or app. Here are some helpful categories to consider:
Apps that will fight unfair traffic or parking tickets
Getting pulled over is a pretty common occurrence. An estimated 26 million people who interacted with the police in 2011 said it was during a traffic stop, according to the Bureau of Justice Statistics. That's more than 10% of the nation's drivers. And the price of a ticket can range from a modest $43 for driving just over the speed limit in Memphis, Tennessee, to nearly $1,200 for failing to yield to a blue light ("not pulling over for a funeral procession led by officers") in Byron, Mississippi.
If you were actually speeding or leaving your car unattended, you probably want to consider simply paying the ticket — even if it amounts to hundreds or even thousands of dollars — since the process of appealing a parking or speeding ticket is usually bureaucratic and cumbersome. Fortunately, there's a number of different services that will undertake the process for you.
Off the Record is a service that matches you with an attorney who reviews your ticket information remotely and advocates in court on your behalf. You pay upfront for this service, but the website says the company will issue a refund if it can't at least get the ticket scrubbed from your record.
Fixed, which is available in 11 states and in Washington D.C., works similarly, charging between $99 and $299 for noncriminal violations. Just upload a copy of your ticket to the Fixed app and it'll match you with an attorney.
Finally, you're dealing with a parking ticket in New York City, the service WinIt will appeal it for you — instead of charging you a fee upfront, it makes money by collecting a 50% portion of the fine from you.
Apps that will get refunds from your airline
If your warm winter vacation was waylaid by endless delays, you may be entitled to compensation as well — up to 400% of the ticket's price, for example, if you get bumped from a flight. If you're simply delayed, you might be able to score some miles as an act of goodwill.
Of course, getting that money or those miles requires communicating with your airline's customer service, which is often easier said than done. Around 1,000 people tweeted complaints about being on hold with one of the top five most complained about airline call centers in the last 30 days alone, according to #OnHoldWith.
Being put on hold is one thing if you're stuck in the terminal with nothing better to do, but frequent fliers in particular might consider outsourcing the resolution of their travel woes to a third-party service.
The app Service was founded in 2015 to help domestic travelers file for discounts, largely in the form of travel vouchers to make up for delayed or canceled flights. The app will also sync with your email and automatically scan your flight itineraries. You can either pay for the service as a subscription or allow it to keep about a third of your earnings. Companies like AirHelp and Refund.me offer similar help, but only for international flights.
Apps that will get you refunds from retailers
When you buy a product, particularly online, odds are good that you paid a different price than you would have the day before: Retailers like Amazon sometimes change their prices millions of times in a single day, particularly if they offer price guarantees or other incentives. The problem is these price changes are often too small to be worth fussing over.
Fortunately, these price inconsistencies have given rise to a number of apps that will analyze your purchases and seek refunds on your behalf. Earny scans your email inbox for receipts and tracks the items for discounts after you paid. Users save about $300 annually on the app, Oded Vakrat, the company's founder, told ABC. You'll get your money back the same way you paid for it. So if you charged an item, you'll get a card refund, and if you paid with cash, you'll likely get a check in the mail. Earny keeps about 25% of what it gets you back.
Paribus is a similar service that partners with nearly 20 of the largest retailers, including Amazon. It will analyze your purchase history for items whose price has fallen since you bought it and apply for a refund. Paribus will also track an item's shipping, and apply for a refund if it comes late.
Finally, the Rakuten-backed Slice offers a free service that also tracks your inbox for receipts and alerts you to possible refund opportunities — but you have to submit the requests yourself.
Apps like Dosh can also get you cash back by automatically scanning for and applying various coupon codes or other discounts that you might have missed.
Apps that will lower your bills
Nearly half of young people have trouble paying their bills each month, according to a recent survey from PwC. But even if you're living that green life — unplugging electronics and using green appliances to keep down utility — there's still a chance you're leaving money on the table, particularly if you experience occasional outages.
An app like Trim, for example, will analyze your spending for subscriptions you might consider canceling, and will also attempt to renegotiate your cable or internet bill on your behalf with providers like Time Warner and Comcast. It claims to save its users about $1 million each month.
Bill Shark will negotiate all of the above, but also your satellite radio and home security bills as well, if you have them. It claims to have an 85% success rate and makes money by keeping 40% of what it gets you.
Of course, all of these services come with a tradeoff. With the exception of finding a lawyer to appeal your parking ticket for you, they're all actions you could technically take yourself. So you'll need to decide if it's worth giving the app company a chunk of your savings, just to save some time and hassle.
You will also want to carefully read any terms agreements to be sure you understand what a given company is and isn't allowed to do with your personal or purchasing information.
Still, at the same time, little refunds add up. If you're not the kind of person who is okay with spending a Saturday night battling with customer service representatives, it might well be worth it to hire someone to do it for you.
Sign up for the Payoff — your weekly crash course on how to live your best financial life.