An "Instagram butler" is a real job, and they'll make sure your photos incite vacation envy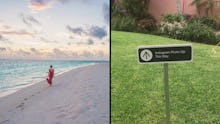 Leave your selfie stick behind: A resort in the Maldives, a tropical nation in the Indian Ocean, now offers "Instagram butlers" who can help guests figure out how to get the best possible Instagram photos. These "butlers" can pick a spot, frame your shot, add visual props and even take the photo for you.
"Our team members are often asked to take photos for guests around the resort ... We felt by introducing this service officially, as an option for guests, was a natural fit," Kimberly Roberts, director of marketing and communication for the Conrad Maldives Rangali Island, said in an email.
The resort conducted service trials throughout 2017 with bloggers and other influencers with hundred of thousands of followers; it was made available to all guests in October. Employees from the guest services team are the ones conducting the "Insta trail on request," Roberts noted.
The butlers can clue guests in on when the sky will light up with color, what restaurant tables have the best views and when your silhouette will look particularly stunning against the clear blue water. Roberts said the resort's "Insta trail" includes eight spots on Rangali Island and five on Rangalifinolhu Island, an uninhabited island linked to Rangali via footbridge.
The idea of setting out on vacation for the sake of beautiful social media content can seem a bit icky. But the service makes sense: If people are searching for beautiful landscapes to highlight on their personal feeds, the hotel might as well lend a helping hand. Many people enjoy recreating photos they've seen on their feeds, and the butlers can help people looking for a more original angle. Snapping photos is in a hotel's best interest, too, since social media posts serve as modern-day marketing for a property.
"On the trail, guests will be shown the hidden secrets and not-so-obvious spots on the island, the best angles to capture a specific moment and, of course, the best time of day where the lighting is not too harsh but just picture-perfect," Roberts said.
The "Instagram butler" is certainly not a vacation necessity. Then again, neither is room service. Or a swim-up bar. Or endless breakfast buffets full of eggs and pastries. Or freshly washed sheets each night. It's yet another smart amenity that puts travelers in vacation-mode.
Spots on the Insta trail include:
"The sunset tip"
Traditional Maldivian swings
Breakfast with water views
The Conrad Maldives isn't the only hotel with the foresight to share its Instagram expertise. At the Hamilton Princess and Beach Club in Bermuda, guests can look for designated photo spots and are encouraged to #PoseOnPink with the hotel's famous millennial pink walls.
To guide guests, a sign points them to photogenic areas outside the hotel.
It's no coincidence this trend started at romantic, somewhat remote places like Bermuda and the Maldives. If you're traveling here with a significant other, let your Instagram husband or wife take a day off — they deserve a vacation, too.