In fresh sign of a pending Democratic wave, Rep. Darrell Issa is the latest Republican to retire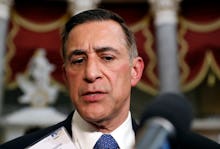 Rep. Darrell Issa (R-Calif.) announced his retirement on Wednesday — making him the latest House Republican from a suburban district to leave Congress rather than run for re-election in 2018.
Issa joins four Republicans who represent districts Hillary Clinton won in 2016 who are retiring rather than running for re-election in November. Reps. Ed Royce of California, Ileana Ros-Lehtinen of Florida and Dave Reichert of Washington state have all declined re-election bids, and a fifth, Rep. Martha McSally (R-Ariz.), is vacating her Arizona House seat for a district that Clinton carried, in order to run for Senate.
These moves are part of growing signs that a Democratic wave is building in 2018 that could sweep Republicans from the majority.
Issa was already seen as vulnerable in 2018. He barely won re-election in 2016 in his Orange County-based seat, defeating Democrat Doug Applegate by less than 1 percent. That race was already rated a toss-up by election analysts.
But the University of Virginia's Center for Politics immediately moved this race into their "Leans Democratic" column after Issa's decision to retire — meaning the center believes Democrats will have an easier time picking up the seat without Issa's incumbency advantage.
Aside from the mass exodus of Republicans from the House, President Donald Trump's abysmal approval rating, as well as Democrats' double-digit advantage on the generic congressional ballot, make Republicans' chances in the 2018 midterm elections look grim.
Democrats need to net 24 seats in order to win back control of Congress.