Jake Shears opens up about his journey from bullied "faggot" to masculinity cover boy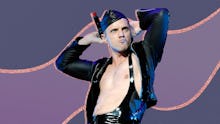 It's not even two weeks into 2018, and Jake Shears is already hitting the ground running — in heels, no less — in his long-awaited Broadway debut in Kinky Boots. This moment precedes his debut solo album and his memoir, both of which are due out this year.
Shears, who rose to mainstream fame as the lead singer of American pop group the Scissor Sisters in the early aughts, first made his grand return to the spotlight as the cover boy of Attitude magazine's December 2017 "Masculinity" issue.
The image features Shears in an unzipped jumpsuit, chest hair visible, with dramatic eyeshadow and painted red fingernails on display — an obvious counterculture nod to rigid gender norms.
"I thought it was interesting to just go with it," Shears said in an interview with Mic. "In the gay world, I think we've gotten so caught up with representing ourselves in a certain way. Femininity can really be looked down upon in a certain way by all of us." Shears identifies this sort of ideology as a butch worship.
He continued: "When you're bullied in high school, you have this desire to... you want to be them. You see all these guys in high school that are into sports, that are popular and have girlfriends — and you sort of have this desire and you can fetishize that. I've struggled with that over the years."
That pain of not feeling good enough is something Shears, like many young LGBTQ people, has grappled with since his early days growing up in San Juan Island, Washington. "In junior high and high school, I knew I was different because I was being singled out at school and getting bullied pretty hard," he said.
But rather than cower, Shears says he started provoking it. "I started confronting it head-on, dressing the part, getting weirder and dressing stranger," he said, dubbing himself a "total goth thrift-store mess" with long hair, fishnets on his arms and painted nails. "So yeah, I was a fag and I sort of knew that. ... It wasn't popularity, but it was notoriety."
Though he found a power in owning that role, he says the name-calling could be at times frightening. "It didn't hurt my feelings that much more than it was navigating myself around situations in which I could get physically hurt."
At 15, upon the urging of columnist Dan Savage, Shears had come out to his family and friends. A few years later, he moved to L.A. for his freshman year of college, but just wasn't feeling the city was a match for him.
By 1999, the 21-year-old Shears moved to New York City, which he describes as "very different" from the city that it is today. "It was restrained in certain ways because of the cabaret laws and places were really strict on no dancing," he said. "When I moved to New York, I thought that was the craziest thing I'd ever seen."
That didn't stop him from becoming a regular at places like Luxe and The Roxy, nightlife staples of a bygone era. "It was a magical time," said Shears. "I was in college, wrapping up a few years of school at Eugene Lang, but it was just my excuse to be here. It was there, in the nightclubs of New York City, that Shears says he finally felt the sense of freedom he'd been seeking for so long.
Though he was writing fiction at the time, Shears longed to perform, and began go-go dancing. "Go-go dancing was a way for me to get an amount of attention that I needed. I've always needed attention since I was a little kid. It was a way to get that satisfaction of what my soul needed," he said.
Then, slowly, came the formation of the Scissor Sisters, originally the brainchild of Shears and his friend Scott Hoffman, a.k.a. Babydaddy.
After their first few nightclub shows, singer Ana Matronic joined the duo. "The early performances were really silly," Shears said. "We'd write a new song every week. We'd play in BBar or Mary Ann's while people were eating their dinner. Babydaddy and I would get on the bar at The Cock at one in the morning. We did take it kind of seriously, but we were having fun. It's not like we were making any money or anything."
Shortly thereafter, an indie label approached them about putting a few songs out with a cover of Pink Floyd's "Comfortably Numb" as the B-side on the vinyl. "Once I had a record in my hands, and once I'd heard one of our songs played at a huge party by one of my favorite DJ's, that's when I knew that this was totally viable and that we could actually do this. I just knew this was going to be my life."
From there, it just got bigger and bigger. Their cover of "Comfortably Numb" went on to chart in the top 10 of the U.K. charts. "Take Your Mama" and "Filthy/Gorgeous" charted shortly thereafter.
Shears noted that at times, the band's queerness drew dismissive attitudes from their record label or the media. "I think there was a lot of homophobic stuff we had to deal with, always. The gay thing, the queer thing, always seemed to come first. But I knew that down the road it was going to get better for queer artists and singers. And that was just part of the process of making that road a little bit wider."
By 2006, Scissor Sisters' "I Don't Feel Like Dancin'" from their sophomore album Ta-Dah became their first top single. "Night Work" followed in 2010, which saw the band opening for Lady Gaga during select dates of her Monster Ball Tour. In 2012, they earned arguably their biggest single to date, "Let's Have a Kiki," a song inspired by a sample of Margaret Thatcher talking over an acid beat.
"We never really intended it to be anything," Shears said. "We let our old manager listen to it and he told us that it was the worst song we'd ever recorded."
The song was an immediate hit. "Gay Anthem 'Let's Have a Kiki' Is Everyone's Anthem," Gawker's Rich Juzwiak wrote at the time. Memorably, Sarah Jessica Parker — Shears' close friend — performed a cover of the song on a 2012 episode of Glee. "To see Sarah Jessica Parker walk up from the subway on her phone was one of the weirdest things," Shears said. "I absolutely loved it."
Shortly thereafter, and completely unexpectedly to fans, the band took a hiatus. "It had been 10 solid years of either being in the studio or on the road, and I didn't want to keep dragging everyone around. No one expected this band to happen like it did. No one expected it to pop off," said Shears. "I just wanted to give everybody their lives back a little bit. Everyone had put in a lot of work — four records [in] 10 years — then 'Kiki' happened [and] I felt like we'd said what we wanted to say. What were we going to do after that? We'd done it."
When asked about a possible reunion, Shears said "It's totally possible someday."
Another stress that Shears faced: his struggles with body dysmorphia, which made the spotlight challenging — especially with the often unrealistic standards of beauty in the gay world.
"I've been so obsessive over trying to look as perfect as I possibly can, thinking that's the only way I'm going to get laid — which is not true," he said. "I've definitely chilled out. I think maybe it's just getting older. But I definitely have struggled with it to the point of making me ill, wearing my body down so hard that I've been very unhealthy [and] pushing myself way too hard."
Shears said photo-sharing apps like Instagram encourage such feelings. "When all you're seeing is this perfection, I don't think it's good for our brains," he said. "I think the best thing to dismantle it is to turn that shit off," something Shears says he has made more of a conscious effort to do.
For now, Shears is focused on his first stint on Broadway (he began his Kinky Boots run on Monday night); his memoir, Boys Keep Swinging, out in February, and the album, which will be released later this year.
He calls his role in Kinky one of the biggest challenges of his career yet — "and that's exciting to me," he said. As for the book: "It's a lot about New York, when I moved here," Shears said, promising a lot of notable cameos.
So with all these career accomplishments and more on the horizon, does Shears feel like a trailblazer? "I don't," he said with a laugh. "I'm always happy to hear it. I'm happy that people think that and I'm proud of what I've done."