Trump calls his immigration reform meeting with lawmakers a "performance" and "work"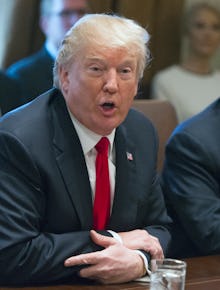 President Donald Trump on Wednesday said the meeting he held Tuesday with a bipartisan group of lawmakers to discuss immigration reform was a "performance."
"It was a tremendous meeting," Trump said during a Cabinet meeting at the White House. "Actually, it was reported as incredibly good and my performance — some of them called it a performance, I consider it work — but it got great reviews by everybody other than two networks, who were phenomenal for about two hours. Then, after that, they were called by their bosses for saying, 'Oh, wait a minute.' And, unfortunately, a lot of those anchors sent us letters saying that was one of the greatest meetings they've ever witnessed. And they were great."
The goal of Tuesday's meeting was to work out a deal to handle the roughly 800,000 undocumented immigrants covered by the Deferred Action for Childhood Arrivals program.
The meeting was reportedly left open to the media because the White House is trying to dispel the growing number of people questioning Trump's mental fitness to be president, according to the Washington Post. Chatter on his mental state cropped up after the release of Michael Wolff's Fire and Fury: Inside the Trump White House.
Trump himself tried to dispel that notion with a weekend tweet declaring himself a "very stable genius." But Tuesday's immigration meeting only prompted further questions about Trump's fitness.
During the meeting, Trump's position on what kind of fix he wanted to protect DACA recipients changed multiple times, typically assuming the position of whichever lawmaker had just spoken — regardless of whether they were members of his own party.
Sen. Dianne Feinstein (D-Calif.), for example, said she wanted a "clean" DACA bill — one that addressed only DACA and no other immigration issues. After she spoke, Trump immediately said he'd sign a clean DACA bill.
"Yeah, I would like — I would like to do that," Trump told Feinstein in response.
House Majority Leader Kevin McCarthy (R-Calif.) then stepped in to remind Trump that Republican lawmakers want border security included in any DACA legislation.
"Mr. President, you need to be clear though," McCarthy chimed in. "I think what Sen. Feinstein is asking here: When we talk about just DACA, we don't want to be back here two years later.  We have to have security, as the secretary would tell you."
The moment where Trump agreed to Feinstein's "clean" DACA proposal was left out of the meeting's official transcript, but was added after a number of reporters pointed it out .
After contradicting himself numerous times during the meeting, Trump took to Twitter on Tuesday night to clarify his position.
"As I made very clear today, our country needs the security of the wall on the southern border, which must be part of any DACA approval," he tweeted.