Vermont becomes first state to legalize recreational marijuana via state legislature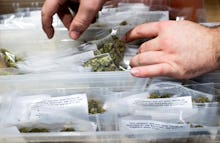 Vermont will become the ninth state in the country to allow the recreational use of marijuana after the state legislature passed a bill on Wednesday to legalize the drug.
The move is historic, as Vermont is the first state to legalize the drug via its state legislature, rather than through a ballot initiative, according to the Los Angeles Times. Republican Gov. Phil Scott says he's "comfortable" with the plan, a signal he will sign it into law.
The bill allows for people aged 21 and older to have up to an ounce of marijuana, as well as grow a small number of plants, according to the Washington Post.
Vermont's vote comes a week after Attorney General Jeff Sessions rescinded Obama-era guidance that allowed states to legalize marijuana without interference from the Department of Justice. Marijuana is currently illegal on the federal level, and is classified among the most dangerous drugs, including heroin and ecstasy.
Sessions said that federal prosecutors can now decide whether or not to enforce federal marijuana laws — a move that some feared could hurt states whose economies have benefited from the recreational sale of the drug.
Vermont might not be the only state to legalize recreational marijuana in 2018.
Incoming New Jersey Gov. Phil Murphy, a Democrat, supports legalizing the drug and said he would sign a bill that legalizes it for people ages 21 and older. The Democratic-controlled New Jersey state legislature said legalizing the drug is a priority.