5 women come forward accusing James Franco of sexual misconduct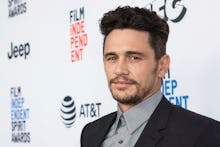 Five women have come forward to accuse actor James Franco of sexual misconduct — both in his personal life and in his role as an instructor and mentor at the Studio 4 acting schools he founded, the Los Angeles Times reported.
Murmurings of Franco's misconduct have been bubbling for a while — sparked by various incidents, like his flirtatious Instagram exchanges with a 17-year-old back in 2014 — but Franco's recent Golden Globe win in one of the best actor categories for his performance in The Disaster Artist has revived the conversation around his alleged behavior. Franco was one of the many actors at Sunday's Golden Globes sporting a Time's Up pin on his lapel, meant to show support for the initiative aiming to end sexual harassment in the workplace. It was a gesture that rang false for many of his accusers, including Sarah Tither-Kaplan, an actress who attended Studio 4.
Seeing Franco's Time's Up pin "was like a slap in my face," Tither-Kaplan told the Times after calling Franco out on Twitter on Sunday night.
One theme runs through nearly every allegation against Franco in the Times: He abuses a position of power to put women in uncomfortable scenarios, in which denying his requests risked angering Franco or endangering the women's careers.
For example, Tither-Kaplan told the Times about an orgy scene she filmed with Franco and a group of other actresses. Over the course of filming, Tither-Kaplan said Franco removed the plastic guards covering the actresses' vaginas and continued to simulate oral sex on them.
Another actress, Hilary Dusome, recounted a story in which Franco asked a group of actresses if anyone wanted to take their tops off while filming a scene at a strip club. He became visibly upset and "stormed off" when nobody volunteered, according to Dusome.
On Tuesday's episode of The Late Show With Stephen Colbert, Franco responded more generally to some accusations leveled against him on Twitter by the women the Times interviewed, like Tither-Kaplan and Violet Paley, who said she had begun a romantic relationship with Franco "when she said he pressured her into performing oral sex on him," the Times reported.
"First of all I want to say, I wore [the Time's Up pin] because I do support it," Franco said. "There were some things on Twitter ... I haven't read them, I've heard about them."
"Look, in my life I pride myself for taking responsibility for things I've done ... the things that I heard that were on Twitter are not accurate, but I completely support people coming out and being able to have a voice ... so I don't want to shut them down in any way."
On Wednesday's Late Night With Seth Meyers, host Meyers asked Franco if he had any responses to the allegations made against him on Twitter. Franco said they were "not accurate" but also said that he wouldn't "refute" them.
"There are people, women and others who have not been a part of the conversation," he said. "And I truly believe — and why I was wearing the [Time's Up] pin — is they need to be a part of this conversation. So I support that."
Meyers then asked whether Franco had reached out to Ally Sheedy, an actor who tweeted — then subsequently deleted — that Franco was an example of the reason she left the entertainment industry. Franco said he had not.
"It was so shocking, I don't know," he said. "I guess I'm just letting it be."
It remains to be seen what effect these allegations will have on Franco's awards-season hopes — the 39-year-old actor is thought to be in the running for the best actor trophy at the Academy Awards, thanks to his starring performance in The Disaster Artist, which he also directed. The nominees for the 90th Academy Awards will be announced on Jan. 23.
Jan. 11, 2018, 11:03 a.m.: This story has been updated.