Logan Paul has been kicked off Google premium ad program and booted from YouTube Red shows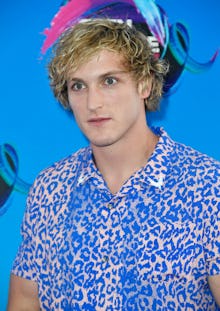 YouTube star Logan Paul is being forced to face the consequences of a controversial video he recently posted. YouTube has removed Paul from its premium ad program, Google Preferred, the company revealed on Wednesday. "Additionally, we will not feature Logan in season 4 of Foursome and his new [YouTube Red] Originals are on hold," a YouTube representative told Deadline.
Paul was also supposed to star in the YouTube Red movie, The Thinning: New World Order, but YouTube said that movie will no longer happen.
This wasn't Paul's first brush with controversy; he's been called out for creating problematic content prior to the incident in Japan:
On Jan. 1, Paul posted and quickly removed a video he made in Japan's Aokigahara forest, which is also known as the "suicide forrest," because it is a popular place for people to die by suicide. In the video, Paul finds a dead body and shows it on camera. He faced serious and immediate backlash and quickly released a video apology the next day.
Google Preferred is catered to brands who want to advertise on the site's most popular videos. It's unclear how being removed from Google Preferred will affect Paul's income.
This week, YouTube posted a series of tweets regarding the incident. "Like many others, we were upset by the video that was shared last week," the post reads. "Suicide is not a joke, nor should it ever be a driving force for views. As Anna Akana put it perfectly: 'That body was a person someone loved. You do not walk into a suicide forest with a camera and claim mental health awareness.'" The company promised to share its future plans to "ensure a video like this is never circulated again."