Will 2018 be a landmark year for voter rights?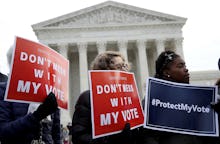 Welcome to Mic's daily read on Donald Trump's America. Want to receive this as a daily email in your inbox? Subscribe here.
Thursday's Dispatch: A landmark year for voter rights?
The new year brought an end to Trump's voter fraud commission, a group that advocates long claimed was a tool to suppress voting. The commission ultimately did little more than request voter information from the states.
Despite this, existential threats to ballot access remain, and judicial moves may mean that 2018 is the year we finally see them sorted out.
On Wednesday, federal judges ruled North Carolina's congressional districts were gerrymandered unconstitutionally to favor Republicans. Republicans are expected to appeal the decision. The decision will fall to the Supreme Court, which has traditionally avoided ruling on gerrymandering cases.
The court heard arguments in October on a case that charges Republicans with gerrymandering districts in Wisconsin. And the justices will hear a case accusing Democrats of gerrymandering a congressional district in Maryland.
On Wednesday, the Supreme Court also heard a case over whether Ohio election officials could remove inactive voters from the state's voter rolls. In the state, if someone does not vote in a presidential cycle, they are sent a notice. If they don't respond or vote again in the next four years, Ohio's secretary of state removes their voter registration.
A Reuters study in 2016 found at least 140,000 voters had been removed from the rolls in Ohio's three largest cities alone. On Wednesday, justices were deeply divided over the practice — with oral arguments suggesting the conservative justices may uphold Ohio's removal of inactive voters as constitutional.
Looming court decisions suggest 2018 could be a landmark year for determining whether tactics like gerrymandering and removing inactive voters can continue to suppress the will of voters.
Today's question: How significant do you think purging voters and gerrymandering have been on election outcomes?
Please email us at trumpsamerica@mic.com with your thoughts.
Thursday in Trump's America:
GOP Senate woes: Rep. Jim Renacci (R-Ohio) on Wednesday met with officials at the White House, who encouraged him to mount a Senate bid in Ohio. Meanwhile, Hillbilly Elegy author and Ohio investment banker J.D. Vance met with Senate Majority Leader Mitch McConnell (R-Ky.) to discuss a Senate bid.
Following Joe Arpaio's announcement he will run for Senate in Arizona, Sen. Cory Gardner (R-Colo.), who oversees GOP Senate campaign efforts, said he could not immediately back the controversial former sheriff. Arpaio was pardoned by Trump over the summer for a criminal offense.
Mudslides: Seventeen people are dead and more than a dozen are missing following mudslides in Southern California.
Immigration negotiations: Trump kept up his demand Wednesday to include border wall funding in any deal that is struck to protect recipients of the Deferred Action for Childhood Arrivals program. Rank-and-file Democrats, meanwhile, threatened to revolt against their leaders for considering a deal to fund the government without protections for immigrants who were brought to the U.S. as children. And House Republicans released a hard-line immigration proposal that alienates Democrats and moderate Republicans.
Special counsel: Trump declined Wednesday to say whether he would agree to an interview with special counsel Robert Mueller.
North Korea: The president also said Wednesday he is open to talks with North Korea, reversing comments made in October saying talks with North Korean leader Kim Jong Un would be pointless.
Manufacturing: Foreign car companies are on track to surpass U.S. auto manufacturers in how many cars they build in the United States.
Census: The Department of Justice wants the U.S. Census Bureau to ask those it polls in 2020 whether they are citizens. Experts warn that this could harm participation in the decennial measure of U.S. population.
Iran deal: Trump will likely extend relief from economic sanctions for Iran this week — a cornerstone of the 2015 nuclear deal. However, the U.S. will target some Iranian businesses and individuals with sanctions.
Democratic wave? Rep. Darrell Issa, a Southern California Republican, announced Wednesday he will not seek re-election. Issa joins four House Republicans, so far, whose districts Hillary Clinton won in 2016 and who are not running for re-election in 2018.
Libel laws: Trump complained about media coverage of his administration again on Wednesday, saying he wants to explore changing libel laws to make it easy to sue journalists. Experts say that's very unlikely to happen.
Sexual misconduct: At least 14 state legislators have stepped down over allegations of sexual misconduct in recent months, according to an Associated Press review.
House Democrats are inviting victims of sexual misconduct to the State of the Union to highlight the issue during Trump's address. NBC News reported House Minority Leader Nancy Pelosi (D-Calif.) has pushed women in the House to not hold hearings over allegations of sexual harassment and assault against Trump.
Killing Obamacare: Politico uncovered a secret White House plan to slowly kill the Affordable Care Act, which was reportedly first shared with House conservatives in March.
Medicaid changes: The Trump administration has advanced its long-rumored move to allow states to impose work requirements on those who receive Medicaid.
Another drilling exemption? After Florida Republican Gov. Rick Scott was told oil and gas drilling would be restricted off his state's coastline, South Carolina GOP Gov. Henry McMaster is now asking for the same treatment. The move raises concerns that the White House will appease GOP governors, but not Democrats demanding the same waivers.
Trump at Davos: Vox outlines what to expect when Trump, the anti-globalist, attends an elite meeting with CEOs and leaders from across the world later this month.
Today's MicBite:
ICYMI: It's worth watching this Mic video about how people were arrested and charged following the #DisruptJ20 protests on inauguration day in 2017. Who was arrested and why may surprise you. Click or tap below to watch.