A prominent immigration activist was just detained by ICE and is slated for deportation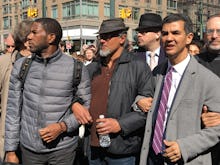 NEW YORK CITY — Ravi Ragbir, a prominent leader in the immigrant rights movement, was detained Thursday by U.S. Immigration and Customs Enforcement officials and is slated for deportation, according to public officials.
Ragbir is the executive director of the New York City-based New Sanctuary Coalition, an anti-deportation interfaith organization, and who has been fighting his own deportation for years.
In the months after Donald Trump was elected, many feared that Ragbir would become a target. When Ragbir had to show up for a check-in with ICE in March, hundreds of supporters showed up with him in support.
Ragbir was able to avoid detention then, but not this time around. During another check-in with immigration officials on Thursday, Ragbir fainted when he was informed that he would be immediately detained.
As an ambulance attempted to take him away, several demonstrators laid down in the street in an attempt to block the vehicle. Organizers with the New Sanctuary Coalition estimate between 12 and 18 people were arrested, including several clergy members and at least two members of the New York City Council, Ydannis Rodríguez and Jumaane Williams.
"While we are furious about what DHS did today — we are not deterred," City Councilman Brad Lander told protesters shortly after the arrests.
"We are standing with Ravi," Lander told the crowd. "We will not stop even if ICE targets New Sanctuary NYC, even if it means risking arrest, even if it means putting our bodies on the line, time and time again. Release Ravi now!"
Ragbir has lived in the United States for more than 26 years.
In 2001, Ragbir was convicted of wire fraud while working as a loan processor for a U.S.-based mortgage lender, making his green card subject to review despite the fact that his wife is a U.S. citizen and is the father a U.S.-born daughter. In March, Ragbir told Gothamist's Jake Offenhartz that he was just a low-level employee following the bank's own rules when he was charged.
Despite the Trump administration's stated goal of focusing on deporting immigrants with violent criminal offenses, Ragbir's supporters suspect he was targeted by ICE officials for his activism.
Ragbir's detention comes just days after ICE detained Jean Montrevil, another leader and founding member of the New Sanctuary Coalition.
"The detention of both Ravi and Jean is an affront to faith-based communities everywhere," Rev. Chloe Breyer, executive director of the Interfaith Coalition of New York City, said in a statement. "People who are willing to speak out against the injustices of the immigration system should not be targeted for deportation. No one should be treated this way."
Protesters will hold a vigil for Ragbir at 5 p.m. Thursday at Foley Square in New York City.