Walmart closes Sam's Club stores — hours after announcing employee raises due to Trump tax cut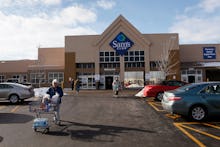 Walmart is suddenly shuttering dozens of its Sam's Club stores, the company said Thursday — the same day it announced it would improve its employees' wages and benefits because of the tax bill President Donald Trump signed in December.
Walmart will close 63 of its Sam's Club stores. Several abruptly closed on Thursday, in some cases without informing employees. According to Business Insider, as many as 11,000 people could lose their jobs.
Hours earlier, Walmart announced that it will raise its starting hourly wage to $11 in the United States, provide a one-time bonus to its employees and expand benefits, citing the GOP tax plan that lowered the corporate rate.
"Given these changes, we have an opportunity to accelerate a few pieces of our investment plan," CEO Doug McMillon said in a statement Thursday. "So, we're pleased to tell you that we're raising our starting wage to $11 an hour for Walmart U.S., Sam's Club, Supply Chain, eCommerce and Home Office hourly associates effective in February."
Trump and Republican lawmakers cheered the move, and Rep. Paul Ryan said it evidenced the way their controversial tax plan "is helping improve people's lives."
But critics said Thursday that the company's move to shutter Sam's Club locations around the country and lay off employees reveals that the idea that the GOP tax plan will benefit workers is a "myth."
"This low-ball announcement by Walmart after the corporate tax giveaway looks more like a ploy to promote the myth that corporate tax cuts are what raise wages," Christine Owens, director of the National Employment Law Project, said in a statement Thursday.
According to Business Insider, ten of the shuttered stores will become e-commerce distribution centers. The rest will close for good in the coming weeks.
The wage increase will take effect in February and includes employees at Walmart and its subsidiaries, including the more than 600 remaining Sam's Club locations.
The one-time bonus employees will receive will be proportional to the amount of time each individual has spent with the company, up to $1,000.
Full-time hourly employees will also become eligible for 10 weeks of paid maternity leave and six weeks of paternity leave, along with financial assistance to associates who adopt a child.
In a White House press briefing Thursday afternoon, Treasury Secretary Steve Mnuchin praised Walmart for the announcement — but did not discuss the Sam's Club closures and lay-offs.
Walmart did not immediately return Mic's request for comment on Thursday afternoon.