What Melania Trump wore her 51st week as first lady — the zero times she appeared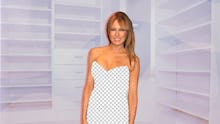 This week, like her second, eighth, 12th, 16th, 30th and 48th weeks as first lady, Melania Trump was a no-show — in public, at least.
According to a tweet Trump sent Friday, that's because of "meetings, meetings [and] more meetings!"
And while that must have been unbelievably fun for her, it's not so fun for us — we can't even speculate what she wore this week because we truly don't know!
What a bummer that is, huh?
Since her Louboutins touched down on the White House lawn on New Year's Day, Trump has gone as undetected as the millions of voters her husband claims voted illegally in the 2016 election.
Maybe next week will bring her out once more, if we're lucky.
You can see previous recaps of what Melania Trump wore — when she did appear — here.