'Harry Potter' fans and Black Twitter join forces to make #BlackHogwarts. Here are the best tweets.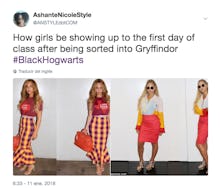 The internet will never get enough of the boy who lived. The Harry Potter movies may have left Freeform for the foreseeable future, but the series lives on in many places — including Twitter.
And that brings us to #BlackHogwarts, a hashtag that started trending on Thursday. The denizens of Black Twitter came up with some great twists on the iconic franchise that we wouldn't mind seeing added to the canon. After all, the Harry Potter universe had a shortage of colorful folk, and Hermione herself is now played by a black actress in Harry Potter and the Cursed Child.
But, enough with the intro. Accio #BlackHogwarts tweets!
Transgifuration? Do that on your own time.
Who needs a sorting hat when you have the Sorting Do-rag.
#BlackHogwarts knows how to remember the fallen professors.
Always slay the first day.
When there's a huge black presence on the quidditch pitch, not just Lee Jordan.
It's apple juice, we promise.
Who needs a house party when you have a disappearing room on campus.
Never forget.
When professor Snoop rolls up.
Turning a blind eye, #BlackHogwarts style.
That awkward moment when they ask to see your wand and you have nothing to show.
The #BlackHogwarts hashtag shows not only the creativity of Black Twitter, but how passionate fans of Harry Potter remain. Those who love the series won't have a new outlet for their fandom until the new Fantastic Beasts movie comes out later this year. For now, though, we'll revel in how great it is that the wizarding world's fan presence continues to live.