"Vulgar, racist, nauseating": Trump's "shithole countries" remark draws international outrage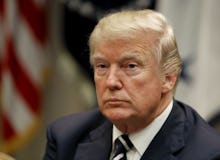 President Donald Trump's outburst on Thursday, in which he called Haiti and other African nations "shithole countries," drew widespread condemnation, with leaders from all sides of the political spectrum expressing outrage over his remark.
Rep. Mia Love (R-Utah), herself a Haitian-American, said Trump's comments are "unkind, divisive, elitist and fly in the face of our nation's values." Rep. Ileana Ros-Lehtinen, a Florida Republican who is retiring when her term expires at the end of the year, called Trump's comments "discriminatory" and "reckless."
Rep. Jeff Flake, the retiring Arizona Republican whose been an outspoken Trump critic, didn't mention Trump by name, but he took offense at the idea that Trump said some countries' immigrants were more worthy than others.
"My ancestors came from countries not nearly as prosperous as the one we live in today," Flake tweeted. "I'm glad that they were welcomed here."
Bill Kristol, a conservative columnist who has been a vocal Trump critic, pointed out the heroism of a Ghanian immigrant who risked his life to save people in a Bronx apartment building fire that killed 12. His tweet was retweeted by former Secretary of State Hillary Clinton, a sight almost unthinkable in such polarized times.
Rep. Frederica Wilson (D-Fla.), who was the subject of a smear campaign by Trump and his chief of staff John Kelly, praised her Republican colleague who called Trump's comments out.
"Kudos to @RepMiaLove for being a Republican who has the courage to call out @realDonaldTrump on his racist remarks," Wilson tweeted. "He must apologize!"
"Racist" was a word used by many Democrats to describe Trump's comments.
"@realDonaldTrump's comments are racist & a disgrace," House Minority Whip Steny Hoyer (D-Md.) tweeted. "They do not reflect our nation's values. Immigrants from throughout the world of all races, nationalities, & religions have built this country & are contributing today to its improvement."
Rep. Jamie Raskin (D-Md.) called Trump's comments "vulgar, racist, nauseating and contemptuous."
It wasn't just lawmakers, however, who spoke out.
Former FBI Director James Comey, who Trump fired in 2017, tweeted the poem affixed to the Statue of Liberty.
"'Give me your tired, your poor, your huddled masses yearning to breathe free, the wretched refuse of your teeming shore. Send these, the homeless, tempest-tossed to me, I lift my lamp beside the golden door!' This country's greatness and true genius lies in its diversity," Comey tweeted.
The United Nations Human Rights Council called Trump's "shithole" remark "shameful," and said that there is "no other word one can use but 'racist'" to describe his comment.
CNN anchor Anderson Cooper, who spent time in Haiti reporting on the earthquake that decimated that country exactly eight years ago, teared up as he spoke about Trump's attacks on the island nation.
"Like all countries, Haiti is a collection of people: rich and poor, well educated and not, good and bad. But I've never meet a Haitian who isn't strong — you have to be to survive in a place where the government has often abandoned its people, where opportunities are few and where Mother Nature has punished the people far more than anyone should ever be punished," Cooper said, beginning to well up. "But let me be clear tonight, the people of Haiti have been through more — they've been through more, they've withstood more, they've fought back against more injustice than our president ever has."
MSNBC's Andrea Mitchell also spoke to the resilience of the Haitian people.
"I covered military action in Haiti, the return of Aristide, the 1st elections, the U.N. peacekeeping force, the earthquake — followed by U.N. workers introducing cholera," Mitchell tweeted. "Haiti has suffered enough from international neglect and natural disasters. They don't need Trump."