Trump cancels London trip, pins the blame on Obama in false tweet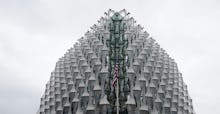 President Donald Trump has canceled his upcoming trip to London and blamed former President Barack Obama for why he's not headed across the pond.
"Reason I canceled my trip to London is that I am not a big fan of the Obama Administration having sold perhaps the best located and finest embassy in London for 'peanuts,' only to build a new one in an off location for 1.2 billion dollars," Trump tweeted late Thursday night. "Bad deal. Wanted me to cut ribbon-NO!"
But Obama had nothing to do with the U.S. Embassy's move in London. The move was announced in October 2008, when George W. Bush was president.
And the embassy was moved from its location in Grosvenor Square in central London to Nine Elms in southwest London because of security concerns.
"Meeting the challenge of providing a modern, open and secure American diplomatic facility in London, the U.S. State Department today signed a conditional agreement with the real estate developer Ballymore to acquire a site in the Nine Elms Opportunity Area in Wandsworth for the construction of a new Embassy," the State Department announced on Oct. 2, 2008.
Then-U.S. Ambassador to the United Kingdom Robert Tuttle said at the time that the move was made after a "long and careful process."
"We looked at all our options, including renovation of our current building on Grosvenor Square," Tuttle said in that October 2008 statement. "In the end, we realized that the goal of a modern, secure and environmentally sustainable embassy could best be met by constructing a new facility. I'm excited about America playing a role in the regeneration of the South Bank of London."
London Mayor Sadiq Khan, who's been on the receiving end of Trump's Twitter attacks, said Trump was never welcome by the people of London.
"Many Londoners have made it clear that Donald Trump is not welcome here while he is pursuing such a divisive agenda," Khan tweeted, saying Trump would have been met by "mass peaceful protests" if he had made the trip.
"It appears that President Trump got the message from the many Londoners who love and admire America and Americans but find his policies and actions the polar opposite of our city's values of inclusion, diversity and tolerance," Khan said.