How immigrants from "shithole countries" contribute to the US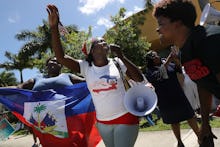 Welcome to Mic's daily read on Donald Trump's America. Want to receive this as a daily email in your inbox? Subscribe here.
Friday's dispatch: How people from "shithole countries" contribute to the U.S.
President Donald Trump on Thursday aired his true view of countries like Haiti and African nations by calling them "shithole countries." Trump had been offered an immigration deal that would include accepting people into the United States from poorer nations.
First reported by the Washington Post, Trump's comment ignited a firestorm of criticism from Republicans and Democrats alike. "Language like that shouldn't be heard in locker rooms and it shouldn't be heard in the White House," tweeted Ileana Ros-Lehtinen, a retiring Republican congresswoman from South Florida. "This is the real Donald Trump and my biggest fear is that his voters will applaud him," Rep. Luis Gutierrez (D-Ill.) said in a statement.
Indeed, White House aides said the comment would help with Trump's base. Trump's policies have long pointed to a belief that the United States be more particular about who can immigrate to the U.S. He has supported proposals that would enact merit-based immigration, and has restricted the influx of refugees and people from several Muslim-majority countries. Deportations within the U.S. — not at the border — have spiked dramatically in 2017.
But these comments ignore the evidence that, broadly speaking, people from countries like Haiti and African nations have made substantial contributions to the U.S. and are active members of the U.S. economy. Use Haiti as an example.
Census data analyzed by the Migration Policy Institute, a nonpartisan immigration think tank, found Haitian immigrants are more likely to have a high school degree than other foreign-born immigrants. Haitians older than 16 are 9 percentage points more likely to work than the U.S.-born population.
The 1.1 million people born in Haiti or with Haitian ancestry living in the U.S. sent $2.3 billion back to Haiti in 2015 — amounting to about a quarter of the impoverished country's domestic product. Approximately 59,000 Haitians who have lived in the U.S. legally since a devastating 2010 earthquake, which killed more than 100,000 people on the island, had their legal status in the U.S. revoked in November. They will have to return to Haiti or otherwise seek citizenship by July 2019.
Despite higher participation in the U.S. labor force, Haitians remain worse off in the U.S. on average. A 2016 Brookings Institution study found that in South Florida, which has the highest concentration of Haitians, they are "more likely to work low-wage jobs, earn less money and pay larger shares of their income on basic necessities."
More broadly, immigrants have helped large American cities become economic powerhouses. And they commit less crime than U.S.-born citizens.
Trump's assessment of immigrants from poor countries may win political points with his supporters. But his view is not grounded in facts.
Caveat: The president claimed on Twitter Friday morning that he did not use the "shithole" remark on Thursday. That came after his aides did not deny the statement on Thursday and the use of his language was widely reported.
Today's question: Do you believe immigrants contribute to the United States?
Please email us at trumpsamerica@mic.com with your thoughts.
Friday in Trump's America:
More on immigration: The meeting that drew Trump's infamous comment Thursday featured a bipartisan gathering of senators who had presented Trump with an immigration plan that would protect recipients of the Deferred Action for Childhood Arrivals program while providing some border wall funding.
Trump, along with conservatives and liberals, balked at the framework of the deal. Lawmakers have little room to negotiate ahead of next Friday's deadline to continue funding the government.
North Korea: In an interview with the Wall Street Journal, Trump said he probably has a "very good relationship with Kim Jong Un of North Korea." Trump and Kim have traded barbs for the past year.
The wall: Trump also told the Journal he believes he can force Mexico to pay for the wall through renegotiating the North American Free Trade Agreement.
Detention: A prominent immigrant rights activist, Ravi Ragbir, who has lived in the U.S. for 26 years, was detained by U.S. immigration officials in New York City on Thursday.
Special election: Ahead of a special congressional election in March, Trump will travel to Pennsylvania next week to campaign for a Republican hoping to hold a traditionally GOP seat against a surging Democrat. Vice President Mike Pence is also expected to invest time in winning the seat.
Bannon lawyers up: The Daily Beast reported former White House chief strategist Steve Bannon has retained a lawyer to represent him in the Russia investigation. The attorney is also representing White House counsel Don McGahn and former Chief of Staff Reince Priebus.
CHIP: The Children's Health Insurance Program remains unfunded, as federal support for the program lapsed in September. The Congressional Budget Office said Thursday that renewing CHIP would save the government $6 billion over a decade.
Mixed messages: Walmart announced Thursday it was raising its nationwide minimum wage to $11 and giving some employees bonuses after passage of the GOP tax plan. But hours later, the company announced the closure of 63 Sam's Club stores — laying off thousands of workers.
Facebook: The platform's newsfeed will now focus on what your friends and family share, not what pages post.
Trump's fitness: A new Axios/Survey Monkey poll found more than half of Americans believe Trump's fitness for office is a serious issue.
Today's MicBite:
Hitler had his own version of "fake news" — called "lugenpresse." An acclaimed scholar and child of Holocaust survivors explains how Hitler vilified the media to rise to power. Click or tap below to watch.