Chain migration: How conservatives created the transformative policy they're now attacking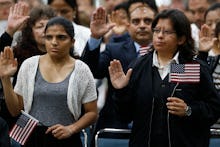 Since President Donald Trump took office, he and Republicans in Congress have been sparring with Democrats over U.S. immigration policy, including seeking support for the proposed border wall while taking aim at DACA, visa lotteries and so-called "chain migration."
"Chain migration" is Trump's preferred term for family-sponsored immigration policies — which has been a cornerstone of the U.S.' immigration policy for over 50 years. It allows citizens and legal immigrants to reunite with their families by bringing them over to live in the U.S.
Current U.S. immigration policy allows family members to come to the U.S. under one of four different family preference immigrant visas, as well as visas for spouses of U.S. citizens, citizens' children under age 21, orphan children being adopted by U.S. citizens and parents of citizens. These latter visas are unlimited, but the family preference visas — which allow for adult children and siblings of U.S. citizens, and spouses or children of lawful permanent residents, to immigrate — are subject to caps of between 23,400 and 114,200 visas per year.
Though Reuters reported in January that use of these family immigration visas dropped in 2017 to a decade low, the policy has still drawn Trump's ire. The president blamed the policy for the recent attempted bombing in a New York City subway station after it was discovered the suspect had immigrated on a family visa — even though family-based immigrants are still subject to the same vetting process as those who come through via other immigration streams.
"CHAIN MIGRATION must end now!" Trump tweeted in November. "Some people come in, and they bring their whole family with them, who can be truly evil. NOT ACCEPTABLE!"
Trump has now made reforming the policy one of the key parts of his demands on immigration reform. In a White House statement responding to allegations that Trump called Haiti and African nations "shithole countries," White House principal deputy press secretary Raj Shah said the president "will only accept an immigration deal that adequately addresses the visa lottery system and chain migration — two programs that hurt our economy and allow terrorists into our country."
Some of Trump's Republican colleagues have also taken up the call against chain migration. Sen. Tom Cotton (R-Ark.) decried the practice in a January 8 speech.
"We're a nation where blood ties are not supposed to dictate the path of your life, where you can fulfill your dreams," Cotton said. "But we have an immigration system that does the exact opposite, an immigration system that favors the ties of blood, the ties of kinship, the ties of clan, the ties of tribe. What could be less American than that?"
Trump and Cotton's attacks on the "un-American" program, however, ignore that it was conservatives who imposed family-based immigration in the first place. Their intention, though, was to keep the country dominated by white Europeans, and has since backfired and led to the transformation of the U.S.
Family-based immigration in the 1965 Immigration Act
The U.S. first adopted its emphasis on family-based immigration in the 1965 Immigration and Nationality Act, also known as the Hart-Celler Act. This was a transformative piece of legislation that abolished a prior system of national origin quotas that heavily favored Europeans. The law stated that "no person shall receive any preference or priority or be discriminated against in the issuance of an immigrant visa because of the person's race, sex, nationality, place of birth or place of residence." It enabled immigrants from around the world to move to the U.S. far more easily than they had before.
While the Democrat-led act was initially based around skills and education that would be "especially advantageous" to the U.S., a last-minute political compromise was struck to assuage conservatives who wanted the U.S. to remain predominantly populated by white Europeans: family-based immigration.
Conservatives in Congress, allied with House Immigration Subcommittee Rep. Michael Feighan, a conservative Ohio Democrat, pushed for the new policy to prioritize immigrants who already had relatives in the country. The thought here as that this would mean white Americans would bring over European relatives and preserve the country's white majority.
"When the 1965 act was being negotiated, there was a lot of pressure in the U.S. and externally to get rid of those discriminatory national origin quotas, and put the same cap on immigration for all countries in the world. But at the same time, there was a concern that really doing this could change the composition of the United States and ... people argued about a change to our cultural heritage," Julia Gelatt, a senior policy analyst at the Migration Policy Institute, said in an interview with Mic.
"So a compromise was struck that by putting in a big proportion of family-sponsored immigration into the bill, that would lead to kind of a reproduction of the country as it looked at the time. People could only come in if they had family in the United States, so that would kind of maintain a strong immigration from Europe, they thought at the time," she said.
The 1965 bill and its priority on family immigration was backed by conservative groups at the time, such as the American Legion. In an article for the Feb. 1966 edition of the American Legion Magazine, the group praised the policy as "a naturally operating national-origins system."
Transformative effect of the 1965 bill
When signing the 1965 bill, President Lyndon B. Johnson noted that the bill "will not reshape the structure of our daily lives, or really add importantly to either our wealth or our power."
The 52 years since the bill's passage, however, have proved otherwise. A study cited by the Migration Policy Institute in 2015 found that one in four people in the U.S. are post-1965 act immigrants or their children. And the Pew Research Center revealed that immigrants and their descendants accounted for 72 million in population growth — 55% of the total U.S. population growth — between 1965 and 2015.
Despite the conservative lawmakers' best intentions, the act and its emphasis on families also enabled the U.S.'s growing diversity, as European immigration declined while immigrants now able to arrive from around the world settled in the U.S. and brought their families over to join them.
"There was less demand from Europe to the rest of the United States, and pent up immigration demand from the other parts of the world," Gelatt said. "So once immigration was more open for people in the U.S. to sponsor their family from the rest of the world, people came in, and ... immigration from Latin America and from countries in Asia have been on a steady increase that continues today, [while] immigration from Europe has really petered out."
In addition to the family visas, the 1965 act's allowance for non-family streams of immigration, Gelatt noted, "allowed people to come in from other parts of the world, and then once they were here, they were allowed to sponsor their own family members to bring in their own families."
Immigration from Latin America and Asia, the Pew Research study found, resulted in the percentage of Americans who are non-Hispanic whites declining from 84% in 1965 to 62% in 2015. The Hispanic population, on the other hand, rose from 4% in 1965 to 18% in 2015, while the Asian population grew from less than 1% to 6% during the same time span.
According to the Pew study, if the 1965 act hadn't been passed, the country would now be 75% white, 14% black, 8% Hispanic and less than 1% Asian.
The debate over "chain migration" and its benefits
Today, the unintended effects of the family visas have caused conservatives to change their tune. According to the Trump administration, the policy supposedly negatively affects the economy and "undermines national security," allowing immigrants from around the world supposedly unfettered access to government benefits thanks to their family ties.
But others, including American Immigration Council Research Director Guillermo Canto, disagree.
"I think that largely what we're seeing here is yet another attempt to demonize a group or blame a group, with absolutely no evidence, of not being beneficial to the country," he said in an interview with Mic.
The conservative attack on family-based immigration, Gelatt noted, even includes the adoption of the term "chain migration" itself.
"I think the term chain migration is being used strategically as a way that can be used to build public support for perhaps even cutting family-sponsored immigration," Gelatt said. "Chain immigration sounds a lot more clinical and less human than family-sponsored immigration."
The phrase's offenses potentially even go beyond its clinical nature; the wording has been decried by the American Immigration Lawyers Association as a "pejorative term." And it was described by "alt-right" activist Travis Hale as previously being known as a "niche topic" discussed among white nationalists.
While detractors are quick to highlight what they see as the policy's flaws, however, it has clear benefits. In absence of government support for immigrants' integration into U.S. society, for instance, family networks often provide a key source of support.
"We don't have any federally driven integration immigration policy; what we have is when people come in, they rely on their families and their family networks to help them settle and learn about how to live and work in the United States," Gelatt said.
Though Cantor notes that specific research on family-based immigration is "somewhat limited," as government surveys don't inquire about how a person got into the country, there are also observed economic benefits to family immigration as well — despite the White House's protestations.
An analysis by the Urban Land Institute, for instance, found that immigrant families have been an "important source" of housing demand that enabled housing markets to recover after the 2008 recession. And the American Immigration Council noted that family members who immigrate to the U.S. can provide childcare for their relatives, enabling more women to participate in the workforce.
More broadly, immigrants play an important role in entrepreneurship that drives the U.S. economy. An analysis published by the Ewing Marion Kauffman Foundation in 2015 reported that more than 40% of Fortune 500 businesses were founded by an immigrant or their child, and immigrants in 2012 were almost twice as likely to start a business than native-born Americans. In the engineering and technology sectors, firms founded by immigrants employed approximately 560,000 workers in 2012 and contributed $63 billion in sales.
Gelatt noted that there's "a broad-scale mix of immigrants that are coming through family-based immigration, but there are a lot of high-skilled immigrants" coming through the immigration stream. This reflects recent trends of more immigrants coming to the U.S. with college degrees. According to the AILA, most legal immigrants arrive to the U.S. with a higher skill level than the average native U.S. citizen, citing a study that found immigrants to have one more full year of schooling than the average native-born citizen.
Once they're in the country, too, immigrants' upward mobility often erases any economic difference between them and a native-born American. A study cited by the AIC found that immigrants who enter on non-occupation visas, such as family-sponsored ones, are "associated with lower entry earnings but higher earnings growth than occupation-based immigration," and their earnings catch up to those of immigrants on occupation-based visas after 11 to 18 years in the U.S.
The AILA reported that immigrant family's upward mobility means that on average, the earnings gap between new immigrants and native-born families disappears within 10 years of entering the U.S.
While family-based visas provide clear opportunities for those who come over using them, Gelatt and Cantor both note that though Sen. Cotton decried the policy as being "for the benefit of foreigners," the policy is also a way for the U.S. to provide for its own citizens by allowing them to keep their families together.
"I think that by cutting off some of the family immigration categories that currently exist, what you're doing is really affecting the rights of U.S. citizens or lawful permanent residents that want to bring their family members into the U.S.," Cantor said. "What we need to keep in mind is that this is a system that favors the rights of U.S. citizens and certain residents to bring certain categories of family members to the U.S."