After Trump's racist outbursts, Republicans will distance themselves, but won't ditch him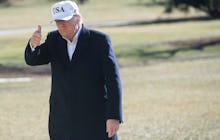 President Donald Trump is once again making headlines for blatantly racist remarks — and Republicans are, again, shying away from taking a real stand against them.
"Why are we having all these people from shithole countries come here?" Trump said in a meeting on immigration Thursday, according to the Washington Post. "Why do we need more Haitians? Take them out." 
The angry comments — which the White House is not denying, and which both Republicans and Democrats present at the meeting appeared to confirm — spurred outrage from Democrats, commentators and the international community. Rep. Maxine Waters called for Trump's impeachment on Friday.
But members of his party? They issued bland, toothless statements saying the alleged remarks were "disappointing" — if they even commented on them at all.
"This behavior is unacceptable from the leader of our nation," Rep. Mia Love (R-Utah), a Haitian-American congresswoman, tweeted Thursday evening.
But the fact is, Republicans have proven time and again that Trump's racism is not "unacceptable," as Love put it. On the contrary, the GOP has shown itself to be completely willing to accept Trump — bigotry and all.
"At this point, I'm honestly not sure what it would take for most Republicans to stop supporting a president that is dividing America and harming our country," Rep. Ted Lieu (D-Calif.) told Mic in a statement Friday. "Trump has disgraced the Presidency in a way that may soon be irreversible. Anyone tip-toeing around that fact should be ashamed of themselves."
Trump comments set off familiar cycle
This is obviously not the first time Trump has made statements that were bigoted or otherwise beyond the pale. Trump, after all, made his name in contemporary politics by promulgating the racist conspiracy theory that the nation's first black president was lying about his birth certificate, kicked off his campaign by calling Mexican immigrants drug dealers and rapists and routinely attacks black athletes and public figures on Twitter.
Republicans have, on numerous occasions, called him out for such remarks.
For instance, Rep. Paul Ryan (R-Wisc.) hit Trump in 2016 for his attacks on Judge Gonzalo Curiel over his Mexican heritage, describing the candidate's actions as "the textbook definition of a racist comment."
But such condemnations have long rang false, as Ryan and others in the GOP fail to back up their statements of disapproval. In August, after Trump defended some of the neo-Nazis and white supremacists who rioted in Charlottesville, Virginia, as "very fine people," Ryan said that the president had "messed up" in his response to the rally that left a 32-year-old woman dead.
"I think he needed to do better," Ryan said at a town hall. "It was not only morally ambiguous. It was equivocating. And that was wrong."
Less than two months later, though, the House speaker said he believes that the president's "heart is in the right place" when it comes to race. Ryan closed out 2017 by effusively praising Trump for his "exquisite presidential leadership" following the Republicans' hard-fought win on tax reform.
When asked about Trump's latest comments on Friday, Ryan shied away from condemnation, merely stating that what the president said was "very unfortunate" and "unhelpful."
But the sheer volume of beyond the pale statements by this president have demonstrated that such reactions have little influence on him. This is either because he can't stop himself, or because the establishment finger-wagging is an ineffective counterweight to the cheers he gets from his members of his base, like Rep. Steve King (R-Iowa) and right-wing commentator Ann Coulter, who backed Trump's "shithole countries" remark.
Some members of the GOP didn't outright celebrate Trump's remarks, as Coulter and King did, but downplayed the comment and indicated that they agreed with the spirit of what the president said. Sens. Tom Cotton (R-Ark.) and David Perdue (R-Ga.) said in a tepid joint statement, "We do not recall the president saying these comments specifically."
The racist remarks Trump apparently made — which reportedly included him expressing a desire for more immigrants from countries like Norway — did appear to be the breaking point for at least one person in his orbit. John Feeley, the United States ambassador to Panama, announced his resignation Friday following Trump's comments.
"As a junior foreign service officer, I signed an oath to serve faithfully the president and his administration in an apolitical fashion, even when I might not agree with certain policies," Feeley wrote. "My instructors made clear that if I believed I could not do that, I would be honor bound to resign. That time has come."
Consequences to "insufficient" Republican response
But while the remarks drew criticism from a number of Republicans, some of whom called on Trump to apologize, none appeared to view it as a breaking point Friday.
Sen. Lindsey Graham (R-S.C.), a Trump critic who seems to have warmed in recent weeks, said in a statement that he "said my piece directly to" the president during the immigration meeting.
"The president and all those attending the meeting know what I said and how I feel," Graham wrote.
But his office did not respond to a request for comment from Mic about his appearance on the The View earlier this week, in which he backed off his famous characterization of Trump during the 2016 campaign as a "race-baiting, xenophobic religious bigot."
"I called him a 'race-baiting, xenophobic religious bigot.' I ran out of things to say," Graham said Monday. "He won. Guess what? He's our president."
When asked if he believes Trump is "still all those things," Graham replied: "In my view, he is my president, and he's doing a really good job on multiple fronts."
"No, I don't think he's a xenophobic, race-baiting, religious bigot as president," Graham added.
This shift is indicative of Republicans' willingness to distance themselves from Trump, but an apparent unwillingness to ditch him entirely.
Lorella Praeli, director of immigration policy and campaigns at the American Civil Liberties Union, said in a phone interview Friday that it isn't enough for Republicans to merely apologize for the president's comments or distance themselves from them.
With the futures of DACA recipients and other immigrants in limbo, Praeli said, it's time for Republicans to "stand up."
"We have a moment of choice as a country, and elected officials are not exempt from this moment," Praeli said. "It is insufficient to simply try to distance yourself by apologizing, because these comments were made as part of a larger policy conversation and ideology that drives the decisions that the president is making."
Trump's comments Thursday came during a meeting with bipartisan lawmakers hoping to broker a deal on immigration, which would include coming up with a solution for the Deferred Action for Childhood Arrivals program — which Trump announced he was ending back in September, putting lawmakers on a stiff timetable to protect recipients.
"The question for Republicans and for all elected officials in this moment, is how do you rise above this moment and how do you deliver?" Praeli said. "It is not enough to apologize, because we have a crisis and the clock is ticking. The time is running out."