Trans woman Viccky Gutierrez reportedly found dead in Los Angeles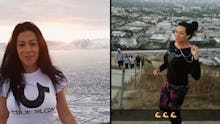 Viccky Gutierrez, a transgender woman living in Los Angeles, was allegedly found dead in her Pico-Union apartment on Wednesday, the Los Angeles Blade reported Thursday. Firefighters responded to a fire in a two-story building around 3:15 a.m. Wednesday morning, according to local outlet KTLA, where they discovered the body of one person who was pronounced dead.
Police arrived at the scene to investigate the death, which fire officials considered "suspicious," the Blade reported. "This is a high-priority case for us," Det. Sharon Kim of the Los Angeles Police Department told the LGBT newspaper.
According to the Blade, the LAPD has yet to release the victim's identity, but friends confirmed it was Gutierrez. If her death is ruled a homicide, Gutierrez would be the second trans woman reportedly killed so far in 2018.
Felisha Starr, a friend of Gutierrez's for more than seven years, said in an interview with Mic on Thursday that Gutierrez was a generous person who "didn't like confrontation" and did anything necessary to keep the peace.
"I've never gotten in an argument with her," Starr said. "She was just a person that was very understanding ... She would sit there and calm me down. Of all my friends, she was the only one I never argued with."
Starr said she and Gutierrez met in 2010 at the Silver Platter, an LA club popular with the trans Latinx community. Gutierrez had immigrated to the U.S. from Honduras, Starr said, and regularly sent money home to her mother.
Starr also lived with Gutierrez for about a year, she said. She described Gutierrez's apartment as being "very green" and decorated with "little statues" of frogs. "She said it was good vibes, you know," Starr said.
Local trans activist Bamby Salcedo launched a GoFundMe to help cover funeral costs and to send Gutierrez's remains to Honduras.
"She was a young trans Latina immigrant woman who's [sic] warm smile would give anyone comfort," the fundraiser's description read. "She was a beautiful soul who was really nice to everyone and would offer any type of support when someone would need it. ... Viccky was the nicest girl in the world and would not harm anyone."
Karla Thalia Flores, a peer educator with Bienestar, a community organization serving LA's trans community, said in a phone interview Friday that she knew Gutierrez through the organization and had been friends with her for years. "I'm in shock, honestly in shock," Flores said. "She's like my sister, my family." Flores described Gutierrez as "very, very gentle."
Flores said she was hoping for a large turnout at a Friday night vigil planned to honor Gutierrez's memory. "We're going to send a message to the people, to the community, that we don't want to be one more victim ... We deserve to live as transgender women," Flores said.
Speaking on Thursday, Starr said it was important to make sure Gutierrez's body made it to her family. "Her mom is in Honduras, she wants her over there," she said. "God bless her soul ... I'm going to miss her so much."
Jan. 12, 2018, 2:52 p.m.: This story has been updated.