Daniel Radcliffe weighs in on Johnny Depp casting controversy: "I can see why people are frustrated"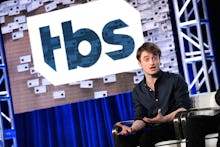 When Harry Potter fans found out Johnny Depp would be taking on a lead role as Gellert Grindelwald in Fantastic Beasts: The Crimes of Grindelwald — a sequel to 2016's Harry Potter prequel Fantastic Beasts and Where to Find Them — they were none too pleased, given the allegations of physical and emotional abuse leveled by his ex-wife, Amber Heard.
In response to backlash from fans, Harry Potter author J.K. Rowling and Fantastic Beasts and Where to Find Them director David Yates have both come out in support of Depp's casting.
"Based on our understanding of the circumstances, the filmmakers and I are not only comfortable sticking with our original casting, but genuinely happy to have Johnny playing a major character in the movies," Rowling's statement, released in December, said.
Now, however, Daniel Radcliffe — who played the titular role in all eight Harry Potter films — is speaking up, too.
"I can see why people are frustrated with the response that they were given from that," Radcliffe said in an interview with Entertainment Weekly. "… I'm not saying anything that anybody hasn't already said — and this is a weird analogy to draw — [but] in the NFL, there are lots of players arrested for smoking weed and there is other people's behavior that goes way beyond that, and it's tolerated because they're very famous players. I suppose the thing I was struck by was, we did have a guy who was reprimanded for weed on the [original Harry Potter] film, essentially, so obviously what Johnny has been accused of is much greater than that."
Radcliffe is comparing the allegations against Depp to an incident in which actor Jamie Waylett, who played Draco Malfoy's henchman Vincent Crabbe, was arrested in 2009 for growing marijuana plants. As a result, he was dropped from the final two Harry Potter films.
When Heard and Depp divorced in May 2016, court documents revealed that Heard accused Depp of being "verbally and physically abusive." Photos that emerged in June 2016 seemed to show Heard with a bloodied, bruised face, according to People.
"I endured excessive emotional, verbal and physical abuse from Johnny, which has included angry, hostile, humiliating and threatening assaults to me whenever I questioned his authority or disagreed with him," Heard said in court documents, ET Online reported at the time.
Depp and Heard later released a joint statement that claimed the two had made amends, saying their "relationship was intensely passionate and at times volatile, but always bound by love. Neither party has made false accusations for financial gain. There was never any intent of physical or emotional harm."
Fantastic Beasts: The Crimes of Grindelwald will open in theaters Nov. 16.