Republicans are trying to clean up Trump's "shithole" comments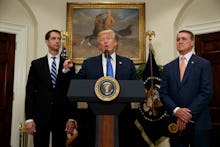 The backlash over President Donald Trump's assertion that Haiti and African nations are "shithole countries" isn't going away — and now, Sens. Tom Cotton (R-Ark.) and David Perdue (R-Ga.) are trying to clean up the mess.
Sen. Dick Durbin (D-Ill.) insists Trump made the remark during a Thursday meeting at the White House to discuss immigration reform. But in a joint statement, both Cotton and Perdue said they "do not recall" Trump making the inflammatory comment.
"In regards to Sen. Durbin's accusation, we do not recall the president saying these comments specifically, but what he did call out was the imbalance in our current immigration system, which does not protect American workers and our national interest," Cotton and Perdue said.
Their statement, however, isn't an outright denial that Trump uttered the phrase — which news organizations have run unfiltered in print, on television and on the radio.
Cotton and Perdue hold the same anti-immigration views as Trump and are allies of the president. In August, Trump endorsed the merit-based immigration bill both Cotton and Perdue introduced in the Senate.
The move by Cotton and Perdue appears to be an attempt to muddy the waters and give Trump some level of cover. But Democrats are using strong language to describe the president's comment, which is widely seen as reflective of a racist point of view.
"I cannot believe that in the history of the White House, in that Oval Office, any president has ever spoken the words that I personally heard our president speak yesterday," Durbin said Friday morning. "President Trump said things that were hate-filled, vile and racist. He used those words repeatedly."
Meanwhile, Sen. Tim Scott (R-S.C.) told the Post and Courier in Charleston that he spoke to fellow South Carolina Republican Sen. Lindsey Graham, who attended the immigration meeting and confirmed the reports about the president's comment, saying they were "basically accurate."
"If that comment is accurate, the comment is incredibly disappointing," Scott said.