Maxine Waters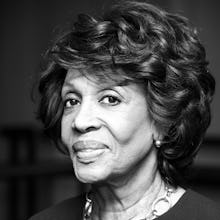 This article is a part of the Black Monuments Project, which imagines a world that celebrates Black heroes in 54 U.S. states and territories.
Maxine Waters has become a national figure in the resistance against President Donald Trump. And she has long been a lawmaker who has spoken truth to power in the face of injustice, especially on behalf of her constituents in Los Angeles.
But Waters was born and raised in St. Louis. She is the fifth of 13 children to Velma Lee Carr Moore, who was a single mother. As a teenager, Waters was a busgirl in a segregated restaurant and in factories to help support her family. After high school, she married Edward Waters and they had two children. In 1961, the family moved to California.
Waters earned a bachelor's degree in arts from California State University at Los Angeles, in 1972. Then, she began working for Head Start, a federal program that provides educational support to children from low-income families. Her time at Head Start inspired her to go into civic work as she continually fought for the program to receive more funding from the government.
In 1976, Waters ran and was elected to the California State Assembly, where she worked for 14 years. Just two years into the job, her work came to pivotal point after the shooting of Eula Love, a single mother who was killed on her doorstep by two police officers. Love was one of many people of color killed over the years in Waters' districts. During her time in the state assembly, Waters led the largest divestment of state pension funds from apartheid-era South Africa, created the nation's first statewide Child Abuse Prevention Training Program and ended police strip searches for nonviolent misdemeanors.
In 1990, Waters was elected to the U.S. House of Representatives, where she serves the 43rd District of California (then numbered as the 29th District). During her 27-year tenure, Waters has supported bills to preserve the environment, cut down on police brutality, support black entrepreneurs, avoid the strains of the housing crisis, expand access to health care — and founded the Minority AIDS Initiative in 1998.
Waters is the most senior black woman serving as a representative in Congress. She is tireless in her pursuit against Trump and has made "reclaiming my time" a rallying cry for the masses. It's time to erect a monument to her living legacy.