Raymond T. Jackson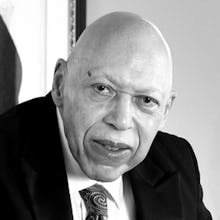 This article is a part of the Black Monuments Project, which imagines a world that celebrates Black heroes in 54 U.S. states and territories.
Raymond T. Jackson has worn many hats, including recording artist, scholar, teacher, coach, organist and conductor.
Taught to play the piano at the age of 4, Jackson — who was raised in Providence, Rhode Island — was destined for a career in music. His website says he spent some Sunday afternoons playing the piano at a local retirement home and listening to radio broadcasts of the New York Philharmonic orchestra. Known as the "little professor," Jackson also played the pipe organ in his church; he was both the organist and choir director.
When he was 13 he made his formal public debut, according to his website, performing a program that included a Beethoven sonata, a rhapsody by Brahms and Frédéric Chopin's "Heroic Polonaise" at Providence's Trinity Auditorium. His parents enrolled him in piano lessons at the New England Conservatory of Music in Boston, where he would later complete his undergraduate education. In addition to receiving his bachelor of music degree, Jackson made history by becoming the first person there to "simultaneously graduate first in his class, summa cum laude; receive the prestigious George Whitefield Chadwick Medal, the conservatory's highest honor; and perform as concerto soloist with the conservatory orchestra," according to his website.
After his time in Boston, Jackson attended the Juilliard School in New York City where he received a bachelor of science and several advanced degrees. He also spent time in France studying at the American Conservatory in Fontainebleau and taking private lessons with pianist Jeanne-Marie Darre.
In the years following, Jackson traveled around the world performing and earning accolades for his masterful piano skills. From Vienna, London and Berlin to Paris, Rio de Janeiro and Athens, Greece, Jackson has performed for countless concertgoers globally. His website says he's also won awards such as the National Association of Negro Musicians piano competition and a Jugg, Inc., New York Town Hall debut award.
Jackson is the first African-American, first musician and youngest person from his native state elected to the Rhode Island Heritage Hall of Fame, according to his website. He is also an honorary member of Providence's Chopin and Chaminade clubs. In addition to being a music professor at Howard University, he has formed the Jackson Foundation and the Raymond Jackson Scholarship and Mentoring Program.
Lauded as an extraordinary musician and educator, Raymond T. Jackson has influenced the lives of young people for more than 40 years. For these contributions, we salute his efforts to keep the melody going for the next generation.