London mayor mocks Trump "stable genius" comment after right-wing protesters disrupt speech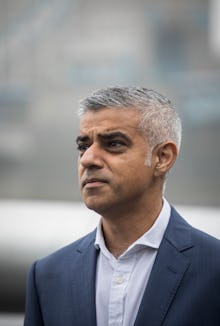 London Mayor Sadiq Khan on Saturday was beginning a speech on gender equality to the Fabian Society — a democratic socialist think tank — when right-wing protesters stood from the crowd and said they had arrived to "make a non-violent, peaceful citizen's arrest."
"Arrest him!" the protesters said, according to the Guardian.
The demonstrators — part of a group calling itself the White Pendragons — reportedly held up American flags and chanted pro-Brexit slogans, seemingly in protest of comments Khan made Friday in response to President Donald Trump's racist complaint about immigrants from "shithole countries" like Haiti and African nations.
Trump on Friday canceled his upcoming trip to the United Kingdom, citing his dissatisfaction with the relocation of the United States embassy, which he incorrectly attributed to former President Barack Obama.
Khan said in a statement Friday that Londoners love the U.S., but find his "policies and actions the polar opposite of our city's values of inclusion, diversity and tolerance" and that his February visit would have been "met by mass peaceful protest."
"Many Londoners have made it clear that Donald Trump is not welcome here while he is pursuing such a divisive agenda," Khan tweeted. "It seems he's finally got that message."
The protesters Saturday disrupted the address for several minutes before being removed by police. Outside the venue, members of the White Pendragons told reporters that they believed the Fabians were "subverting society" and that Khan, who is Muslim, "has no right to be Mayor of London, referencing his religion," according to reporter Paul Brand.
"It is a pleasure to be here even though we were distracted by the actions of what some would call very stable geniuses," Khan said when he restarted his speech, referencing Trump's bizarre defense of his mental stability and intellect last week.
This isn't the first time Khan has called out Trump.
After the president took a Khan quotation out of context to berate the mayor for being "politically correct" after a deadly terrorist attack in the city in July, Khan called on Prime Minister Theresa May to rescind Trump's invitation to visit.
"I don't think we should roll out the red carpet to the president of the USA in the circumstances where his policies go against everything we stand for," Khan said at the time. "When you have a special relationship it is no different from when you have got a close mate. You stand with them in times of adversity but you call them out when they are wrong. There are many things about which Donald Trump is wrong."