Maxine Waters will skip State of the Union address over Trump's racist remarks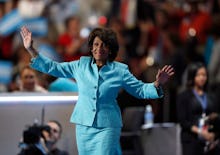 Rep. Maxine Waters (D-Calif.) said Saturday that she will not attend this year's State of the Union address, becoming the third lawmaker to announce they will skip the speech in the wake of President Donald Trump's racist comments about Haiti and African nations earlier this week.
"Why would I take my time to go and sit and listen to a liar?" Waters said in an interview with MSNBC's Joy Reid. "What does he have to say that I would be interested in?"
Waters made her announcement after Rep. John Lewis (D-Ga.) said Friday that he would not be attending the speech, saying that he "cannot in all good conscience be in a room with" Trump after the disparaging comments he has made.
Trump on Thursday ignited a firestorm of criticism after he allegedly described Haiti and African nations as "shithole countries" during a meeting on immigration and asked, "Why do we need more Haitians?"
Trump appeared to deny using the word "shithole" in a tweet Friday, but did not seem to dispute the spirit of his remarks. Sen. Dick Durbin (D-Ill.), who was present in the meeting, maintained that the president did, in fact, use "hate-filled, vile and racist" language during the meeting — something his colleague, Sen. Lindsey Graham (R-S.C.), who was also in attendance, seemed to confirm in his own statement Friday.
"Following comments by the president, I said my piece to him directly yesterday," Graham said. "The president and all those attending the meeting know what I said and how I feel. I've always believed America is an idea, not defined by its people but by its ideals."
Trump not only objected to immigrants from the so-called "shithole countries," according to the Washington Post, which originally reported the comments, but he also suggested the United States admit more immigrants from countries like Norway.
Waters slammed the president over the comments on MSNBC Saturday morning, saying that she doesn't "trust him or appreciate him."
"I wouldn't waste my time sitting in that house listening to what he has to say," Waters said. "He does not deserve my attention."
Waters and Lewis are two of three Democratic representatives so far to say they will not go to Trump's address.
Rep. Earl Blumenauer (D-Ore.) had announced Jan. 5 — before Trump's racist remarks this week — that he would skip the State of the Union, saying in a statement that he did not feel it would be productive to listen to "another destructive and divisive speech by Trump."
"Hearing from Oregonians and working together to protect our values and advance policies that actually strengthen our communities is a more productive use of my time," Blumenauer said.
Waters was one of numerous lawmakers to skip Trump's inauguration last January. On Friday, she called for him to be removed from office over his comments.
"Donald Trump is an embarrassment and a national disgrace," Waters said in a statement. "Members of Congress have a responsibility to the American people and our democracy to impeach him."
Rep. Cedric Richmond (D-La.), the chairman of the Congressional Black Caucus, and Rep. Jerrold Nadler (D-N.Y.), the top Democrat on the Judiciary Committee, have announced plans to formally censure Trump over his "offensive and anti-American" remarks.
Trump is scheduled to deliver the annual address Jan. 30.