Hawaii rep calls out Trump after nuclear false alarm: "He's not taking this threat seriously"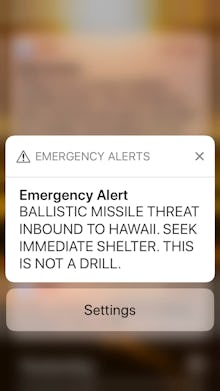 Rep. Tulsi Gabbard (D-Hawaii) called on President Donald Trump to "get rid of this nuclear threat from North Korea" after an alert that went out Saturday falsely stated that a ballistic missile was "inbound to Hawaii."
"Our leaders have failed us," Gabbard said on MSNBC. "Donald Trump is taking too long. He's not taking this threat seriously, and there's no time to waste."
"We've got to achieve peace," she added. "Not play politics — achieve peace."
The island was sent into panic Saturday after an emergency alert warned Hawaiians to "SEEK IMMEDIATE SHELTER."
"THIS IS NOT A DRILL," the alert read.
It turned out to be a false alarm, as Gabbard noted on Twitter.
"THERE IS NO INCOMING MISSILE," the representative wrote. "THE ALERT WAS SENT OUT INADVERTENTLY. I HAVE SPOKEN TO HAWAII OFFICIALS AND CONFIRMED THERE IS NO THREAT."
It wasn't immediately clear early Saturday afternoon why the warning was sent, but 38 minutes apparently elapsed between the time NORAD sent out the alert and the time it retracted it.
Sen. Brian Schatz (D-Hawaii) said the alert was sent out due to "human error" and called for "tough and quick accountability and a fixed process."
Sen. Mazie Hirono (D-Hawaii) said "we need to get to the bottom of what happened and make sure it never happens again."
"At a time of heightened tensions, we need to make sure all information released to the community is accurate," Hirono tweeted.
Trump was apparently at his golf course in Florida amid the confusion.
He and Kim Jong Un have been engaged in a war of words for months, with the president threatening to "totally destroy" North Korea over its nuclear provocations and the Kim regime calling war with the U.S. "inevitable."
Fears about nuclear war have been particularly high in recent days after Trump mocked Kim about the size of his "Nuclear Button."
On Saturday, Gabbard said the false alarm demonstrated the need for Trump to de-escalate the tensions with North Korea and work toward peace.
"This is literally life and death that is at stake for the people of Hawaii and the people of this country," she said.