This week in Trump-Russia news: Bannon lawyers up, gets ready to take the hot seat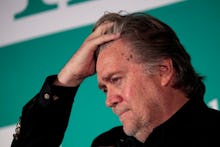 Steve Bannon — bruised from his breakups with President Donald Trump and Breitbart News — is set to testify next week in a highly anticipated appearance before the House Intelligence Committee.
Bannon, who helped Trump to his unlikely victory over Hillary Clinton in 2016 and served as his chief strategist until August 2017, is due for a closed-door interview on Capitol Hill on Tuesday, it was reported this week.
Here's what you need to know about the alt-right figurehead's upcoming appearance — and other developments in the Trump-Russia story this week.
Bannon hires attorney ahead of testimony
Bannon retained lawyer William Burck ahead of his date on Capitol Hill, the Daily Beast reported Thursday.
That's the same attorney who's been representing Don McGahn — the top White House counsel — and Reince Priebus, Trump's former chief of staff.
Bannon had so far maintained that he didn't require an attorney — and, despite his major role in the 2016 campaign, had more or less avoided becoming a public target of the Russia probes.
But in a recent explosive book by journalist Michael Wolff, he is quoted as describing a meeting between members of the Trump campaign and Russian officials as "treasonous" and "unpatriotic."
He was referring to the 2016 rendezvous between Donald Trump Jr. and Kremlin-connected attorney Natalia Veselnitskaya that was also attended by Jared Kushner and Paul Manafort, which the then-candidate's eldest son took believing the Russians had dirt on Clinton.
"[They] should have called the FBI immediately," he apparently told Wolff.
Bannon, once one of the most powerful Trump officials, was immediately banished by Trump after burning the administration in the book, and was also ousted from Breitbart News — the Trump-friendly alt-right mouthpiece.
He'll almost certainly be asked about that 2016 meeting, as well as anything else he may have witnessed during his time in the Trump campaign, transition team and administration. He will also likely have to address quotes attributed to him in Fire and Fury about Kushner, whom he seems to accuse of money laundering.
"The Kushner shit is greasy," Bannon says in the book.
Partisanship threatens congressional probes
Bannon's Capitol Hill appearance will come amid what seems to be an increasing divide between Republicans and Democrats involved in the congressional Russia investigations.
California Rep. Adam Schiff, the ranking Democrat on the House Intelligence Committee where Bannon will testify, said again this week that his Republican colleagues have been attempting to block the investigation, saying his GOP counterparts were preventing Democrats from accessing witnesses and documents necessary to their probe.
The Senate Intelligence Committee has managed to stay pretty bipartisan — at least publicly. But the other Senate investigation being conducted by the Judiciary Committee got testy this week when Sen. Dianne Feinstein (D-Calif.), the top Democrat on the panel, released the full text of Fusion GPS head Glenn Simpson's August testimony to the public — without the approval of Sen. Chuck Grassley (R-Iowa), the chairman of the committee.
Fusion GPS was the firm behind the infamous dossier alleging collusion between Trump and the Russians.
"Her action undermines the integrity of the committee's oversight work and jeopardizes its ability to secure candid voluntary testimony relating to the independent recollections of future witnesses," a Grassley spokesperson said.
But Democrats had criticized Grassley and Sen. Lindsey Graham (R-S.C.) for failing to consult them last week when the two called for an investigation into the ex-British spy who authored the dossier, Christopher Steele.
Simpson says someone has "been killed" over dossier
Fusion GPS had long called for Simpson's testimony to be released.
Feinstein released the testimony Tuesday, saying that the "only way to set the record straight is to make the transcript public."
"The innuendo and misinformation circulating about the transcript are part of a deeply troubling effort to undermine the investigation into potential collusion and obstruction of justice," the senator said.
So what was in the testimony?
Simpson defended the dossier's veracity, saying that Steele's work was "credible." He also says that the former spy had reached out to the FBI about his discoveries, which he'd considered a "security issue," but broke contact with the bureau after the New York Times published a story in October 2016 stating that "law enforcement officials say that none of the investigations so far have found any conclusive or direct link between Mr. Trump and the Russian government."
"I understand Chris severed his relationship with the FBI out of concern that he didn't know what was happening inside the FBI and there was a concern that the FBI was being manipulated for political ends by the Trump people and that we didn't really understand what was going on," Simpson testified. "So he stopped dealing with them."
Perhaps most stunningly, Joshua Levy — Simpson's lawyer — at one point jumps in to block his client from answering a question about the dossier's sourcing, claiming "he wants to be very careful to protect his sources."
"Somebody's already been killed as a result of the publication of this dossier and no harm should come to anybody related to this honest work," Levy said.
The dossier — which was made public in January, days before Trump's inauguration — claimed the Kremlin had been "cultivating, supporting and assisting Trump for at least five years" with the aim of encouraging "splits and divisions in western alliance." 
It also alleged that Russia had a video of prostitutes performing a "golden showers" show for Trump in a Moscow hotel room once stayed in by Barack and Michelle Obama.
Trump called it "A TOTAL POLITICAL WITCH HUNT!"
Republicans have used the salacious dossier in their attacks on the Russia investigation in general, claiming that the FBI has been overly reliant on the raw intelligence and suggesting that it was the original basis of the probe in the first place.
But the New York Times reported late last year that it was not the dossier, but actually former Trump campaign aide George Papadopoulos' 2016 comments to an Australian official that kicked off the investigation.
Trump bashes FISA in complaint about Russia probe
Trump brought up the salacious dossier in a befuddling pair of tweets Thursday about the Foreign Intelligence Surveillance Court, which he said was used to "so badly surveil and abuse the Trump Campaign."
First, he bashed the FISA Act, saying that it — along with the "phony Dossier" may have allowed Obama "and others" to spy on his campaign.
But he didn't seem to understand the provision, which was being voted on Thursday by the House of Representatives, and House Speaker Paul Ryan reportedly had to spend half an hour explaining to the "very stable genius" running the country what the difference was between domestic and foreign surveillance.
Almost two hours later, there was another tweet from Trump's account, in which he did a completely 180: "We need it!" he wrote.
Sarah Huckabee Sanders, the White House press secretary, denied that there was "any conflict at all" between the two tweets.
Trump may testify in Mueller probe
Trump's well-documented struggles with the facts may soon pose a problem for him, as a possible interview with Robert Mueller looms ahead.
It was reported this week that Trump's legal team seems to view a request for a meeting as imminent and is looking to protect their client, perhaps by convincing the special counsel to allow the president to submit some answers to investigators in writing rather than live testimony. They are also looking to define the structure of the interview.
An interview could pose a challenge to Trump — and potentially his presidency — due to his tendency to spout falsehoods and exaggerations. It could also potentially reveal collusion between his campaign and the Kremlin or attempts to obstruct the investigation.
Previously, he said that he would be "100%" open to speaking with Mueller.
But when asked during a press conference Wednesday with Norwegian Prime Minister Erna Solberg, he demurred, telling reporters, "Certainly I'll see what happens."
"When they have no collusion, and nobody's found any collusion at any level, it seems unlikely that you'd even have an interview," Trump said. "I'll speak to attorneys. I can only say this: There was absolutely no collusion. Everybody knows it."