Rep. Mia Love, daughter of Haitian immigrants, demands apology from Trump for 'shithole' comments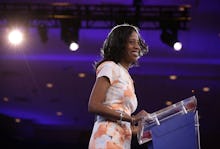 President Donald Trump's recent comment describing Haiti and African nations as "shithole countries" has been met with anger by their residents and American citizens whose families hail from the countries — including one of his Republican colleagues in Congress.
Utah Rep. Mia Love, a Republican and the daughter of Haitian immigrants, has been an outspoken critic of Trump's harsh comments, calling his behavior "unacceptable" in a statement released after the comments were made public. On Sunday, Love doubled down on her criticism in an appearance on CNN's State of the Union, telling host Jake Tapper: "I can't defend the indefensible."
"You have to understand that there are countries that do struggle out there, but their people, their people are good people, and they're part of us," Love said Sunday. "You have to understand that my parents, they came from Haiti. They worked hard. They pay their taxes. When they pledged their allegiance to the American flag and became U.S. citizens, they meant every word of it and they did everything they could to take on not just the benefits, but the responsibilities, of what it meant to be an American citizen. And you have to understand, I'm a product of that. I'm a product of the American Dream."
Love said the president's comments were "difficult to hear," especially since her immigrant parents are "such big supporters of the president." Trump directly appealed to Haitian-Americans during the 2016 election, Tapper and Love noted, and the Utah member of Congress said the president now "has a little bit of explaining to do" to the community who supported him.
"[Haitian-Americans] wanted someone who was able to help and treat them like Americans," Love explained. "I mean, there are Haitian-Americans that are here, that are citizens who contribute to our society and not just contribute to our economy, but also help Haiti and their families there, too. So, we have a lot of people that were supporting the president, the vice president. My mom and my dad actually spoke to Vice President Mike Pence and told them that they were praying for him, that they were doing everything they can to support him, and so this was very, this was heartbreaking for them."
The member of Congress said the White House had reached out to her to arrange a meeting in the wake of the comments, and she noted that she "[doesn't] know if those comments would have been made if I were actually in the room." Love said she hopes Trump "will work with me to actually get things done," stressing the importance of not letting his divisive comments "derail" the current congressional negotiations over DACA and immigration reform.
"I still think that he should apologize. I think that there are people who are looking for an apology, and I think that would show real leadership, but again, the worst thing that can happen is not getting something done on immigration and letting this slide and all of a sudden leaving these families in limbo," Love said.
When asked if she was "disappointed" over the president's comments, Love said she would "be disappointed if we get nothing done."
"I think people don't know what to say at this point, you know. I feel like it's my job as a rep of the House, also my responsibility and my faith, to call out when something is wrong, to praise the president when he does something right and call him out when I think when something's wrong," Love said.
"What do you say to the Haitian-American who comes to you and says, 'Congresswoman, I think the president's racist'?" Tapper asked during the interview.
"My parents have always taught me not to be a victim," Love responded. "My parents have always taught me that no matter what somebody else feels, that's their problem, not mine. That I'm not the one that's flawed when somebody feels some way about me because of the way I look or my gender, or whatever that is.
"So I think that at this point, we can't look to Washington. We can't look to the president to tell us how to behave, how to feel. We have to be respectful; we are responsible for who we are and how we behave. And when history looks back at us, they'll judge us for whether we're able to rise to the occasion and rise above the negativity or whether we wallowed in it and allowed it to take us down," she continued.
After Tapper asked whether Love herself believed the president's remark to be racist, however, the Republican representative couldn't deny the hateful nature of the comments themselves.
"Um, well, I think they were — yes. I think that they were unfortunate," Love said.
"I'm looking forward to finding out what happened, but more importantly, I'm looking forward to trying to fix the problem," she added. "I think we have to hold ourselves to a higher standard."