NYC Mayor Bill de Blasio issues guidance on city's controversial monuments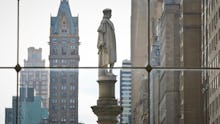 A few months after an outcry over Confederate monuments sparked a nationwide reckoning with the country's controversial statues, New York City has devised a plan for dealing with the problematic figures its public art has honored.
NYC Mayor Bill de Blasio released a report from the Mayoral Advisory Commission on City Art, Monuments and Markers Friday, which issued guidance for taking action regarding several of the city's more problematic monuments and plans for future works.
"Thousands of New Yorkers got involved in this process, and there's been an important conversation going on across the city," Mayor de Blasio said in a statement. "Reckoning with our collective histories is a complicated undertaking with no easy solution. Our approach will focus on adding detail and nuance to – instead of removing entirely – the representations of these histories. And we'll be taking a hard look at who has been left out and seeing where we can add new work to ensure our public spaces reflect the diversity and values of our great city."
As part of the city's attempt to "reckon with [its residents'] collective histories]", de Blasio announced that statues honoring Christopher Columbus and former President Theodore Roosevelt at Manhattan's Columbus Circle and American Museum of Natural History, respectively, will be kept in place but given additional context in the form of historical markers, signage and educational programming at the museum.
In response to the Columbus statue's controversy, the city will also commission a new monument in a yet-to-be-determined location honoring indigenous peoples.
The city will also add historical context regarding a plaque in the Financial District dedicated to Henri Philippe Pétain, a French World War I hero who went on to collaborate with the Nazis during World War II. Pétain's mention, which was decried by Jewish groups, is part of the Canyon of Heroes, a stretch of Broadway that features granite strips carrying the names of historical figures who have been honored with ticker-tape parades in New York City.
A fourth monument honoring J. Marion Sims, a pioneer in the field of gynecology who is criticized for performing surgery on enslaved women without anesthesia or their consent, will be removed and relocated to Green-Wood Cemetery. The city will also provide additional context on Sims and the historical legacy of nonconsensual medical experimentation on women of color through informational plaques, the commissioning of new public art and in-depth public dialogues.
In addition to addressing existing monuments, the Department of Cultural Affairs will also invest up to $10 million for new public artworks honoring underrepresented groups, and the city will partner with organizations to provide educational initiatives and foster additional dialogue around specific monuments. The Ford Foundation has announced a $250,000 grant establishing the NYC Public History Project, which, the mayor's statement explained, will support "academic review of items on City property, New York City history, how these two intersect and where there are opportunities to expand the history represented on public property to reflect the shared past of New Yorkers more fully."
Mayor de Blasio first announced the commission in August, after the Unite the Right rally in Charlottesville, Virginia, over the city's planned removal of Confederate statues sparked activists to speak out against the city's monuments. The Columbus statue was the focus of a Columbus Day protest, while the Roosevelt statue was splattered with a red liquid symbolizing blood in October, as protesters called the statue a symbol of "patriarchy, white supremacy and settler-colonialism." The Sims statue, Gothamist reported in August, was the site of a "string of impassioned protests" by activists from such groups as the Black Youth Project, Planned Parenthood and East Harlem Preservation.
In addition to the protests, over 120 artists and scholars sent a letter to the commission in December calling on the group to remove the statues of Columbus, Sims and Roosevelt, along with Pétain's plaque and that of another French Nazi collaborator, Pierre Laval.
"These monuments are an affront in a city whose elected officials preach tolerance and equity," the letter stated, as quoted by Hyperallergic. "We encourage the Commission to seize this opportunity to make a brave, even monumental, gesture that will resonate for generations to come, rather than a politically expedient fix that will be easily absorbed — and quickly forgotten — by the status quo."