Mic Wakeup: Hawaii, Mia Love and controversial monuments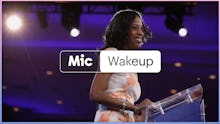 It's Monday, Jan. 15. Here's what you missed from Sunday.
Rep. Mia Love on "shithole" countries
If you've been following the news, you've probably seen that President Donald Trump reportedly referred to Haiti and the nations of Africa as "shithole" countries. On Sunday, Rep. Mia Love of Utah, the daughter of Haitian immigrants and the first black woman Republican in Congress, called on the president to apologize for his remarks. Take a look here.
Rep. Tulsi Gabbard on the Hawaii false alarm
On Saturday morning, an alert went out to residents of and visitors to the state of Hawaii informing them that a ballistic missile strike was headed their way. The alert proved to be a false alarm. But on Sunday, Rep. Tulsi Gabbard of Hawaii went on CNN's Meet the Press to explain that the escalating tension between the United States and North Korea exacerbated the panic that everyone in Hawaii felt that day.
So long, J. Marion Sims!
J. Marion Sims is known as the father of modern gynecology. But many don't know that he experimented on black women — without their consent and without anesthesia. That's why black activists in New York City have been pressuring Mayor Bill de Blasio to remove a monument to Sims that currently stands near Harlem. On Sunday, de Blasio announced he would meet their requests — and put the monument in a graveyard. Literally.