Hype List: What to check out this week, including 'Black Lightning,' 'American Crime Story' and more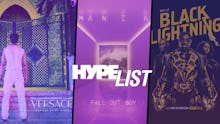 Welcome to the Hype List, a weekly recommendation series in which columnist Tirhakah Love highlights all of the pop culture happenings — movies, music, television, books and more — you need to know about.
TV: American Crime Story: The Assassination of Gianni Versace
More than a year after FX and Ryan Murphy scored a smash hit with 2016's The People vs. OJ Simpson (and after some behind-the-scenes readjustments), American Crime Story is back for a second season. Staying true to its roots of sensational real-life crime sagas that happened in the '90s, the show is now focused on, as the subtitle states, the assassination of Gianni Versace.
Based on Maureen Orth's 1999 book Vulgar Favors: Andrew Cunanan, Gianni Versace and the Largest Failed Manhunt in U.S. History, tells the story of Versace's 1997 murder and the investigation into Andrew Cunanan (played here by Darren Criss), the man police say killed at least five people in 1997, including the famed fashion designer.
But for all of the violence, flashy costuming and set design and the bold casting (Penélope Cruz and Ricky Martin costar), the anthology series' sophomore season isn't afraid to go beyond the surface. Much like how The People vs. OJ dealt with race and sexism, The Assassination of Gianni Versace will explore the subject of homophobia, an issue that star Édgar Ramírez (who plays Versace) recently described as "underlying" the case and the entire series. Recreating the success around the first season of American Crime Story won't be easy — and the latest season certainly doesn't have the support of the Versace family — but odds are that this will be one of the most talked-about new shows of this new year.
American Crime Story: The Assassination of Gianni Versace premieres on FX Wednesday at 10 p.m. EST.
TV: Scandal and How to Get Away with Murder
I know what you're thinking (and if you aren't, you should be): Why put the two black female-led shows in the same entry? Listen, I hear you, but this is a code red wine. Not only are both Olivia Pope and Annalise Keating returning on the same night for ABC's TGIT, but there are also plans of a crossover in the works(!). Details of this Shondaland synergy are still under wraps, but some info has trickled out recently.
The crossover will stretch across two episodes, per a conversation that Lyn Paolo, the costume designer for both shows, had with InStyle. In an interview with Deadline, How to Get Away With Murder creator Peter Nowalk confirmed that the episodes will air as a two-hour block, beginning with Scandal and ending with HTGAWM, and that Olivia and Annalise will share scenes together.
The plot specifics aren't for public consumption just yet, but we think it's safe to assume that Annalise gets herself into some trouble and recruits Olivia to do what she does best. But even aside from this exciting bit of cross-promotion (which, according to Nowalk, is going to air a few episodes before Scandal's series finale), this is Scandal's final season on air, and we're sure Shonda Rhimes has something explosive planned for its swan song.
New episodes of Scandal and How to Get Away With Murder return to ABC Thursday.
Music: Mania by Fall Out Boy
Fall Out Boy's heyday as a mainstream act might be far back in the rearview — like, "mid-2000s" far back — but the emo-pop heavies have been steadily churning out music since reuniting back in 2013, after taking a few years off. They're now onto their third post-reunion LP with Mania, and if you haven't paid their recent material too much attention, just know that Fall Out Boy don't worry themselves with the parameters of traditional emo.
Throughout the course of 2017, the foursome fired off a series of hyperkinetic singles that draw on an array of sounds: rock, yes, but also some chopped-and-screwed stylings from hip-hop and blockbuster crescendos heard in EDM. The latest single, "Wilson (Expensive Mistakes)," sounds more like a traditional pop anthem, but for a sense of the new territory that Fall Out Boy is exploring, check out "Young and Menace." The combination of Patrick Stump's strained, soulful wails and the band's dense, tireless songwriting always makes for an intriguing listen.
Mania will be released Friday via Island Records.
TV: Black Lightning
For its first superhero show featuring a black lead, the CW (which houses DC Comics staples like The Flash, Supergirl, and Green Arrow) decided to revive Black Lightning, a hero who made his comic book debut in the late '70s. As a child born from the underbelly of metropolis known as Suicide Slum, Black Lightning (real name: Jefferson Pierce) used his powers to manipulate electricity to combat corrupt politicians, gang members and evil meta-humans. In this new series, we find Pierce (played by Cress Williams, known for his roles on Friday Night Lights and Prison Break) has retired the mantle of Black Lightning in favor of a quieter life as a father and principal at a local high school.
Predictably, the initial story arc focuses on Pierce resuming his superhero alias to fend off a violent gang. Less predictably, though, is the fact that this series isn't afraid to address real-life issues surrounding race and injustice: The pilot's opening scene features a confrontation between Pierce and a police officer who pulls him over, something that's taken from the life of showrunner Salim Akil, who detailed the incident in a recent interview with the New York Times.
"I've been given a gift," Akil told the Times, referring to the show, which he created alongside his wife, Mara Brock Akil, "and I have to use it the way I think I'm intended to use it, to talk about the things I feel people need to talk about." Black Lightning is important not just because it helps diversify DC's television universe, but because it brings a social conscience to small-screen superhero stories.
Black Lightning premieres on the CW Tuesday at 9 p.m. EST.
TV: Blue Planet II
Planet Earth, the BBC production that has come to be known as the pinnacle of nature documentaries, is back for another season of its Blue Planet subseries. Blue Planet II already debuted across the pond but will premiere in the U.S. across a host of channels, including AMC, IFC, WE TV, Sundance and, of course, BBC America, where all of the episodes following the premiere will air. Like with last year's Planet Earth II, the production calls upon the excitable English accent of Sir David Attenborough for narration and the musical talents of Hans Zimmer for its score.
They'll be providing the soundtrack to deep dives into the large marine desert called "the big blue," a look at the yearly degradation of the world's coral reefs and introductions to creatures we've yet to see on screen. At a time when everyone with a Twitter account seems to be lamenting the end of the world and the crumbling of our natural wonders, Blue Planet II celebrates the life that still inhabits our little sphere — and, naturally, highlights some ways that we can contribute to Earth's survival.
Blue Planet II premieres in the U.S. on BBC America, AMC, IFC, Sundance and WE TV Saturday at 9 p.m. EST.