The best of the NAACP Image Awards red carpet — Tracee Ellis Ross, Laverne Cox, Issa Rae and more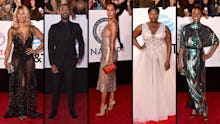 Coming after the Golden Globes and Critics' Choice Awards, the 2018 NAACP Image Awards, which were held on Monday night, were all about honoring and appreciating the talent and impact of black people in film, TV, music and literature this year.
Naturally, some of your favorites, like Ava DuVernay and the cast of Black-ish and Get Out, walked away with awards last night. Also naturally, some of the most continuously best-dressed people — we're looking at you, Tracee Ellis Ross — were in attendance, so it only feels right to give this red carpet the spotlight it deserves.
Here are the looks we think you have to see:
Issa Rae
Michael B. Jordan
Sterling K. Brown and Ryan Michelle Bathe
Ava DuVernay
Chadwick Boseman