Trump's "shithole countries" remark has increased the odds of a government shutdown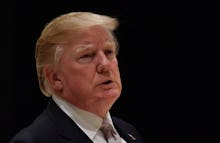 President Donald Trump's highly controversial "shithole" remark on Thursday seems to have increased the odds that a government shutdown will occur at midnight on Friday, which is inevitable if Congress is unable to pass a funding bill.
Republicans were hoping to strike a long-term funding deal that included some of their key priorities, such as increased military spending. They were also trying to include some Democratic goals, including codifying the Deferred Action for Childhood Arrivals program into law, which would protect roughly 800,000 undocumented immigrants who were brought to the U.S. as minors.
But that long-term deal now appears dead after Trump called African nations "shithole countries" — a comment the president has publicly denied but has privately admitted to, according to the Associated Press.
Instead, Congressional Republicans will now look to pass another short-term deal — without a DACA fix — to avoid a shutdown. What remains to be seen is if Democrats, who have promised a fix for DACA recipients, will go along with that plan.
Republicans need nine Democratic votes in the Senate to pass a short-term bill. The party might need Democrats on their side in the House, too, if defense hawks and conservatives refuse to vote for another short-term spending bill that doesn't include more military funding, according to the Washington Post.
A deal may ultimately hinge on whether a consensus forms on which party would shoulder the blame from voters for a shutdown. Trump and Republicans are already looking to blame Democrats.
"The Democrats want to shut down the Government over Amnesty for all and Border Security," Trump tweeted Tuesday morning. "The biggest loser will be our rapidly rebuilding Military, at a time we need it more than ever. We need a merit based system of immigration, and we need it now! No more dangerous Lottery."
Yet experts say voters are unlikely to buy into that narrative, given that Republicans not only have unified control of Washington, but Trump personally scuttled a deal with his "shithole" remark.
"Make no mistake about it, when a party holds the White House and majorities in both the House and Senate, they 'own' any government shutdown," Charlie Cook, a nonpartisan political analyst who founded the Cook Political Report, tweeted. "Things the president has said and done over the last week have only increased the price the GOP has to pay for that ownership."
Aides to congressional negotiators are set to meet Tuesday to attempt to strike a deal before the approaching deadline.
The last time the government shut down was in October 2013.