Iowa senator spends Martin Luther King Jr. holiday defending racist president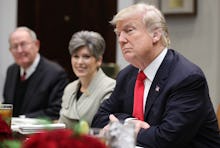 Martin Luther King Jr.'s birthday came and went in 2018 as most days have since President Donald Trump took office: with Republican members of Congress navigating the fallout from the president's racist conduct, denying his bigotry and absolving themselves of culpability.
Iowa saw especially tense examples Sunday and Monday. At town hall meetings in Red Oak and Logan, residents greeted Sen. Joni Ernst (R-Iowa) with heated questions about Trump's mental stability and "white supremacy talk," as Stanton resident Barb Melson put it.
"The American people aren't hearing people stand up to the president," another attendee said.
Ernst responded in Logan by saying she doesn't believe Trump is a racist.
"Deep inside, no, I don't think he's a racist," she explained to a mix of groans and applause from the crowd. "I think he's brash and he says things that are on his mind, but I don't truly believe that he's a racist."
In Red Oak, Ernst justified her failure to rebuke Trump's remarks by saying she'd rather focus on "things that are important to Iowa."
"I don't respond a lot to what the president is saying because, you know what? If I'm going to talk, I want to talk about the things I'm working on and the things that are important to Iowa," she said.
Set aside, for a moment, that several of Ernst's constituents — most of whom appeared to be white — told her that reining in Trump's bigotry is indeed important to them as Iowans. The incongruity of Ernst defending the president's behavior on Martin Luther King Jr. Day illustrates what a hollow exercise the holiday is for many political figures.
Trump kicked off the weekend facing reports that he'd referred to Africa as a collection of "shithole countries," lumping them with Haiti and El Salvador as places from which he'd like to see less immigrants come to the United States. The president added that he preferred more immigrants from countries like Norway, according to the Washington Post.
When Ernst was asked which of America's foreign allies Trump was helping with this behavior, she answered "Norway," with apparent sincerity.
On Monday, Ernst shared a tweet commemorating the holiday that read: "Today, let us not only honor the dynamic leader, Martin Luther King Jr., but his eternal message of equality, peace and love for your fellow man."
It has become common practice for American politicians to invoke or praise King in this way on his birthday — or on other days, as a means of criticizing modern-day racial justice protests that don't fit their sanitized vision of what King stood for — while actively working against his agenda. But to do so while actively denying the prevalence of racism where it clearly persists seems to be especially brazen territory.
Yet unexpected it is not. In the New York Times opinion section Saturday, Ibram X. Kendi, a professor of history and international relations at American University, said "the heartbeat of racism is denial."
"The more racist Mr. Trump sounds, the more Trump country denies his racism and the more his opponents look away from their own racism to brand Trump country as racist," Kendi wrote. "Through it all, America remains a unified country of denial."
King, in contrast, was committed to racial and economic justice during his lifetime, most vocally for black people. He was shot dead at a motel in Memphis, Tennessee, in 1968 by a white man in a white-run nation whose residents overwhelmingly considered him a negative influence on society. Nonetheless, he remained a truth-teller, lambasting white moderates for caring more about order than justice and speaking plainly on white people's failure to "re-educate themselves out of their racial ignorance."
"It is an aspect of their sense of superiority that the white people of America believe they have so little to learn," King wrote in his last book, Where Do We Go From Here: Chaos or Community?
That a de facto apology tour for Trump's behavior did not seem at odds with the mood of Martin Luther King Jr. Day for Ernst seems to encapsulate a much deeper denial affecting Americans. This is what becomes possible when King's legacy is co-opted and divorced from his lived reality. To praise him becomes an empty symbol of support for anti-racism, but without any corresponding obligation to see that anti-racism realized.