H&M's hoodie controversy: From initial backlash to destroyed stores and everything in between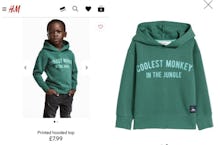 In the exhausting and relentlessly constant world of fashion controversies, one debate that's managed to remain in the public consciousness is the tale of an H&M hoodie that's dominated headlines since it was pulled from the brand's website.
It started a little more than a week ago with a children's hoodie that read "Coolest monkey in the jungle." That may seem innocent enough on its own, but when a photograph of a young black model wearing the hoodie was posted to H&M's website, accusations of racism began to swirl.
It's a controversy that has managed to last over a week, which is about 10 years in fashion controversy time, so we decided to create a timeline of the events that have gone down since the picture hit the internet.
Jan. 7: The hoodie hits the internet
Jan. 7 is a day that will probably live in infamy for H&M's press department.
That's when the internet first caught a glimpse of the image showing model Liam Mango, posing with his hands in his pockets while wearing a green hoodie emblazoned with "coolest monkey in the jungle" across the front.
In truth, it was a tweet that really shot this into our consciousnesses, courtesy of New York Times columnist Charles Blow, who posted the image with one question: "H&M, have you lost your damned minds?!?!?!"
Jan. 8: The backlash begins and H&M apologizes
Hours later, people on the internet were calling H&M racist. And soon thereafter, as Mic reported, H&M sent out its first apology.
"We sincerely apologize for this image," H&M's statement read. "It has been removed from all online channels and the product will not be for sale in the United States. We believe in diversity and inclusion in all that we do and will be reviewing our internal routines."
The initial apology, though swift, was immediately labeled "lame."
Jan. 8: The Weeknd backs out of H&M partnership
Apology be damned, after seeing the image of Liam wearing the hoodie, musician the Weeknd — who had previously worked with H&M on clothing collections and had performed at the company's runway show at Paris Fashion Week in March — announced he would no longer be working with H&M.
"Woke up this morning shocked and embarrassed by this photo," the Weeknd wrote on Twitter. "I'm deeply offended and will not be working with H&M anymore."
Jan. 8: The internet starts to rally behind the boy, with doctored images
With plenty of people still upset, the musician Chris Classic decided to alter the photo of Liam into something much more powerful, creating a piece of art that showed Liam in the green hoodie with a crown instead of the original slogan.
"I made this because I don't wanna see this young king's face anymore with the shirt he was hired to wear by H&M," Classic wrote on Instagram. "I just hope he gets to see this one or any like it that celebrate him."
Over the next few hours, figures like Diddy, T.I. and LeBron James shared similar images on their social media accounts, hoping to change the narrative.
Diddy's reposted image on Instagram came from artist Kervin Andrew, who changed the hoodie's slogan to "coolest king in the world."
"When you look at us, make sure you see royalty and super natural God-sent glory!" Diddy wrote. "Anything else is disrespectful."
Jan. 9: H&M apologizes again on Instagram
With edited versions of the H&M image — and calls to boycott the brand — still flying around, H&M took the time to publicly apologize once more on Instagram.
"We're deeply sorry that the picture was taken, and we also regret the actual print," the post read. "Therefore, we've not only removed the image from our channels, but also the garment from our product offering.
"It's obvious that our routines haven't been followed properly," the statement continued. "This is without any doubt. We'll thoroughly investigate why this happened to prevent this type of mistake from happening again."
That was not enough to convince some, including rapper G-Eazy, who announced via Instagram he was nixing his yet-to-be-launched global campaign with the brand. "Whether an oblivious oversight or not, it's truly sad and disturbing that in 2018, something so racially and culturally insensitive could pass by the eyes of so many," G-Eazy wrote.
Jan. 9: Comments from Liam's mother surface
Amid outrage and multiple apologies at this point, people zeroed in on what Liam's own family thought about the image. In comments unearthed from the Facebook page of Liam's mother, Terry Mango, that have since been deleted, it appeared she didn't agree with the outrage.
"Am the mum and this is one of hundreds of outfits my son has modeled," Mango wrote. "Stop crying wolf all the time, unnecessary issue here… get over it."
In another comment, she wrote: "If I bought that jumper and put it on him and posted it on my pages, would that make me racist? I get [people's] opinion, but they are not mine."
Jan. 13: H&M stores in South Africa trashed
Over the weekend, this controversy finally caused real damage. In South Africa, a group of protesters ransacked several H&M stores, according to Reuters.
The attack involved pushing down displays and mannequins and, in at least one store, shooting rubber bullets, Reuters reported.
Jan. 15: Liam's parents go on TV
Perhaps in an attempt to do a little damage control, Liam's parents appeared on television Monday to voice their opinion on the photoshoot once and for all. "It is not an overreaction when it comes to racism, everyone should act differently based on their opinions of what racism is," Mango told ITV's This Morning.
"To put the T-shirt and the word 'monkey' with racism, maybe that is not my way of looking at it," Mango said. "I'm just looking at Liam, a black young boy, modeling a T-shirt that has the word 'monkey' on it. ... Everybody should respect different opinions based on racism."
The family also stressed that they wished everyone would move on and consider Liam's own opinions on the image.
"He's seen the pictures and he's seen pictures online," Mango said. "He believes people love him for his modeling job and that he's cool and confident in his job."
What will be interesting to see is how long this controversy continues to gain traction. With the state of fashion today, it could all but disappear tomorrow. Yet with continued twists and turns, it seems this particular controversy's roots may run deeper than a simple mistake.