North Korea calls Trump's "nuclear button" tweet the "spasm of a lunatic"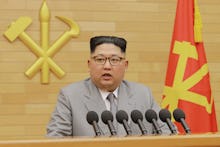 North Korean state media on Tuesday called a recent tweet by President Donald Trump, in which he bragged about having a "bigger and more powerful" nuclear button than the country's leader Kim Jong Un, the "spasm of a lunatic," the Associated Press reported.
"The spasm of Trump in the new year reflects the desperate mental state of a loser who failed to check the vigorous advance of the army and people of the DPRK," North Korean state media said, according to the AP, referring to the Democratic People's Republic of Korea. "He is making [a] bluff only to be diagnosed as a psychopath."
North Korea's comment came in response to Trump's Jan. 3 tweet, in which Trump said: "North Korean Leader Kim Jong Un just stated that the 'Nuclear Button is on his desk at all times.' Will someone from his depleted and food starved regime please inform him that I too have a Nuclear Button, but it is a much bigger and more powerful one than his, and my Button works!"
North Korea's attack on Trump comes after Trump bragged about his relationship with Kim in an interview with the Wall Street Journal.
"I probably have a very good relationship with Kim Jong Un," Trump told the Journal. "I have relationships with people. I think you people are surprised."
This is not the first time Trump and North Korea have traded insults. In September, after Trump nicknamed Kim "little rocket man," Kim called Trump a "mentally deranged U.S. dotard."
And in November, Trump called Kim "fat," after Kim allegedly called Trump "old."
"Why would Kim Jong Un insult me by calling me 'old,' when I would NEVER call him 'short and fat?'" Trump tweeted at the time. "Oh well, I try so hard to be his friend — and maybe someday that will happen!"
Trump has yet to respond to North Korea's latest attack.