Matt Damon apologizes for his #MeToo comments, promises to "close his mouth for a while"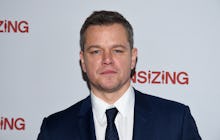 It seems Matt Damon has learned a lesson. The 47-year-old actor has promised to start listening and "close [his] mouth for a while" before talking about the #MeToo movement again.
In a Tuesday morning appearance on NBC's Today, host Kathie Lee Gifford facilitated a conversation about Damon's ongoing work with Water.org — a charity focused on helping more than 663 million people worldwide gain access to clean water — and its new campaign with beer brand Stella Artois. The conversation didn't stay there for long, though.
"When something doesn't touch us personally, we tend not to care as much as we should," Gifford said about the public's ignorance regarding the world's lack of access to clean water.
Perhaps unintentionally, it was also a shady but perfect segue into the next topic of conversation: Damon's comments about the #MeToo movement, which aims to draw attention to — and ultimately end — a toxic culture of sexual harassment and assault. That's something Damon, by his own admission, didn't know enough about before speaking up in a December interview with ABC News.
The Today conversation moves to #MeToo at the 4:25 mark in the video below.
At the time of that December interview, he implied comedian Louis C.K. and former Minnesota Sen. Al Franken had perhaps faced consequences that were too extreme because their behavior was merely "shameful and gross" as opposed to "criminal behavior."
Damon's comments drew the ire of many, including actresses Alyssa Milano and Minnie Driver, the latter of whom once dated Damon and starred alongside him in 1997's Good Will Hunting.
On Today, Gifford asked Damon, "What have you learned from that whole experience?"
"Boy, I really wish I'd listened a lot more before I weighed in on this," Damon said.
"You're a good listener though, Matt," Gifford interjected.
"No, well, not in this case," he said. "I think, ultimately, what it is for me is I don't want to further anybody's pain with anything that I do or say. So for that, I'm really sorry. This whole Time's Up [movement] — a lot of those women are my dear friends and I love them and respect them and support what they're doing and want to be a part of that change and want go along for that ride. But I should get in the back seat and close my mouth for a while."
This hasn't been the first time Damon has made tone-deaf comments about matters he's not personally equipped to understand. In a 2015 episode of HBO's Project Greenlight, Damon shut down concerns about diversity raised by Hollywood producer Effie Brown, the filmmaking reality show's only person of color.
Damon later said he was sorry his comments "offended some people, but, at the very least, I am happy that they started a conversation about diversity in Hollywood."
It seems now, though, that Damon has finally learned that part of having a meaningful conversation is listening.