Democrats win historically GOP state Senate seat in Wisconsin, yet another sign of a coming wave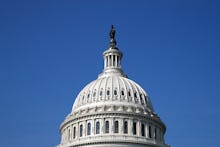 Democrats on Tuesday won a special election in a historically Republican state Senate seat in Wisconsin, adding to the mountain of evidence that the 2018 midterm elections could be a bloodbath for the GOP.
Democrat Patty Schachtner defeated her GOP opponent 55% to 45% in Tuesday's race. In 2016, President Donald Trump carried the district by a 17-point spread, according to data from Daily Kos, making Schachtner's win a massive shift towards Democrats in just over one year.
Republicans were quick to react.
"Senate District 10 special election win by a Democrat is a wakeup call for Republicans in Wisconsin," Republican Gov. Scott Walker tweeted Tuesday night.
There were three other state legislative special elections Tuesday night in seats Trump carried in 2016. While Democrats didn't win these seats, they out-performed their 2016 results by double-digit margins — swings that also suggest 2018 could spell trouble for the GOP.
Prior to Tuesday night, Democrats had already picked up a handful of state legislative seats in areas Trump carried in 2016. The party also out-performed their 2016 margins in a number of congressional special elections, and picked up a Senate seat in deep-red Alabama in December, narrowing Republicans' Senate majority.
And there are other signs that 2018 is also shaping up to be a Democratic wave. Congressional Republicans are retiring in droves, including in seats Hillary Clinton carried in 2016 — a sign GOP lawmakers would rather hang it up than face the political headwinds of the coming midterms.
Republicans are also having trouble recruiting top candidates in areas Trump won in 2016, as GOP candidates are deciding against running in 2018.
In fact, Mark Kleine, a top GOP House recruit in Illinois, withdrew his candidacy, the Illinois State Board of Elections revealed on Tuesday. Kleine was set to face Democratic Rep. Cheri Bustos in a seat Trump narrowly won in 2016. The National Republican Congressional Committee touted Kleine as one of their best candidates.
Kleine's withdrawal from the race comes after the deadline for candidates to file the legal paperwork for a bid, leaving Republicans without a top recruit for the race in November.
All of the signs are leaving Democrats feeling good about their chances this fall.
"The message from tonight is simple," the Democratic Party of Wisconsin tweeted Tuesday night. "Every seat is up for grabs in 2018."