After a year of Melania Trump first lady fashion, what have we really learned about her?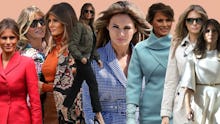 Before Melania Trump became first lady, we had to guess what her style would potentially look like as first lady. Would she continue to wear the looks she favored the campaign trail? Would her uniforms — comprised of gigantic coats resting on her shoulders, belts cinched tight at the waist and sky-high stilettos — still be able to thrive in the East Wing?
One hundred days in, she made it clear that yes, they would. Not only that, but she was about as far a departure from her predecessor as feasibly possible, fashion-wise. After years of Michelle Obama injecting attainable objects into her wardrobe — those J.Crew accessories, for example — we were now faced with a first lady who seemed to not care so much about being relatable as she did about being, well, quintessentially Melania.
After a year as first lady, we can now say Trump has successfully produced an identifiable, definable style that is all her own. After tracking Trump's style choices every single week since her husband became president, here's what we've learned:
She loves a massive coat
These coats — so oversized and voluminous — are Trump's armor. Whether they're draped over her shoulders or encasing her completely, Trump has an obvious affection for statement coats that nearly overwhelm her.
Why? Well, we can only guess, since Trump hasn't been super public about her fashion choices. But the vibe we get as viewers is that Trump remains, quite literally, untouchable to us. She doesn't want people getting too close physically, so these coats essentially serve as armor.
Interpret that as you will.
She loves a cinched waist — with or without a belt
What is almost always incorporated into any outfit Trump puts together is a cinched waist. No matter how voluminous the coat or dress, she makes a point to highlight the narrowest part of her torso, which gives her outfits a feminine flair.
It's also been able to make Trump look as if she were sent directly from the '50s, which is how Trump looked wearing a Dior suit in Paris:
She favors red and pink
Speaking of that particular suit, one color regularly featured in Trump's choices is the color red. Among a sea of neutrals (we'll get to that later), Trump has fled to red.
It's a good, bold color, of course — and patriotic, too.
It's also a color that was favored by former first lady Nancy Reagan, who the media thought Trump looked an awful lot like when she stepped out in an all-red ensemble (complete with red gloves!) back in March.
Other than red, the other bold color Trump has worn most frequently is pink. Trump has appeared in everything from pastel pink and hot pink to fuchsia, which is the shade she wore to the Red Cross Gala in February.
As bold as it is undoubtedly feminine, pink fits well with Trump's overall vibe.
Oh, but she still loves neutrals
No matter how often Trump wears red or pink, it's safe to say she's still largely loyal to neutrals like khaki, black, gray and white. Prior to becoming first lady, her fondness for this color palette was quite clear. And as first lady, these colors are her mainstays. From coats to dresses to sweaters, Trump is at her most comfortable in colors that don't draw too much attention and let the silhouette speak loudest.
She has — just recently — started to experiment with patterns
Compared to Obama, Trump hasn't really worn a ton of patterns — but in the past six months or so, she seems to have gotten braver, with bolder patterns — and even some glitz — popping up in her wardrobe. Like, who could have predicted this outfit (below) in China, with those fur sleeves?
And who could have expected this disco ball of a dress in Italy?
On the campaign trail and in her early months as first lady, Trump wouldn't dare wear something as obviously eye-catching as this silver, sparkly dress.
She remains loyal to European designers
It would make sense for an American first lady to try her best to showcase American talent in fashion. That's something Obama did as first lady (and continues to do today). But Trump hasn't followed that idea. Instead, she mostly favors established European brands like Chanel, Dior and her favorite, Dolce & Gabbana.
D&G has been so jazzed about Trump wearing its designs that the fashion house has willfully gone to bat for her, while plenty of other designers have vowed to never dress her. It's almost like she's repaying D&G for its kindness by wearing the label time and time again.
Another designer Trump seems to have a relationship with is Hervé Pierre, the French designer who helped Trump create her inaugural gown. Since her husband's inauguration, Pierre has created several pieces for the first lady.
She is dedicated to stilettos — for better or for worse
Now for the essential part of Trump's uniform: the shoes.
Trump is almost permanently wearing sky-high stilettos, much like a Barbie doll. They've landed her in controversy, like when she stepped out in stilettos before visiting hurricane survivors in Texas and it was seen as distasteful. But controversies be damned, Trump is loyal — above all else — to Blahnik and Louboutin.
As a woman who's been a celebrity for over a decade and walked countless red carpets, Trump may not only be more comfortable in heels, but more understanding of what they can add to an outfit. If she was wearing flats, for example, maybe some of her most voluminous outfits wouldn't work.
That's kind of the way you have to think about Trump's style at this point. While Obama might have used fashion as a diplomatic tool, Trump hasn't fully invested in that idea. It seems as though she's more concerned with looking put-together, chic and — above all else — like herself than she is about sending a certain message to America.
After a year of surveying and analyzing Trump's fashion, the easiest answer to "Why is she wearing that?" is usually: "Because she she wants to."