10 reasons to visit "shithole" countries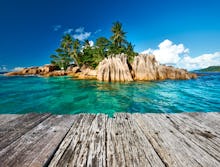 While U.S. senators continue to debate whether President Donald Trump said "shithole" or "shithouse" (and while Trump continues to deny both) when discussing protections for immigrants from Haiti, El Salvador and African countries, we're busy building our travel bucket list. Here are 10 of the many reasons to visit these "shithole" countries:
1. They've got ancient history
Wandering the ruins of an ancient civilization can give you a stronger sense of place and a deeper understanding of human history. The pyramids of Egypt are an extraordinary engineering feat with a compelling history. And Egypt isn't the only "shithole" country with ruins. You can find a Mayan pyramid in El Salvador, evidence of impressive engineering at the Great Zimbabwe ruins and the ever-intriguing Adam's Calendar in South Africa — possibly the oldest man-made structure on earth, predating Stonehenge and the Great Pyramid of Giza.
2. ...and vibrant arts
Stroll the streets of Chefchaouen, Morocco, and enjoy the brilliant blue hues, admire woven and embroidered textiles and marvel at the intricate art of mosaics. Or take a tour of street art in San Salvador, El Salvador, or Johannesburg, and you'll see just how colorful "shithole" countries can be.
3. They've got an appetite for flavorful foods
Variety is the spice of life. And the spices and ingredients used in local cuisine often tell stories of a place and culture. Like it's language, Haiti's food is island-inspired with flavors and influences from Africa, the Caribbean and Creole culture. Diversity is also a key ingredient in many African countries — and it comes through loud and clear in the cuisine. Mozambique's piri piri chicken reflects the country's historical African, Portuguese and Arab influences. You'll find an adaptation of Indian biryani in Zanzibar and a bevy of Indian spices used in South African dishes like the beloved "bunny chow."
4. ...and a taste for the finest drinks
"Shithole" countries sure do produce a plethora of delightful drinks. South Africa makes a wide variety of award-winning wines and is home to the tasty crimson-colored, caffeine-free Rooibos tea. Ethiopia is considered the birthplace of coffee and — along with Kenya — continues to deliver some of the best-ranked coffee in the world. Africa's oldest tea plantations are found in Malawi, where the red soil is fertile ground for their world-renowned teas. Moroccan mint tea is also world-famous, but not for the tea itself; Moroccan mint is the key ingredient that makes the concoction extra special.
5. They've got that #NoFilter kind of natural beauty
From the cloud forests and crater lakes of El Salvador to the raging waters of Victoria Falls — viewable from Zambia and Zimbawe — to the otherworldly salt and clay pans of Sossusvlei, Namibia, and the coastal cruise along Chapman's Peak Drive in Cape Town, South Africa, one of the most scenic roads in the world, these stunning sites found in "shithole" countries are pretty as a picture.
6. And they're where the wild things are
While you won't find the evil beasts from that classic 1963 children's book, these "shithole" countries are home to some spectacular and fascinating wildlife. Catch a glimpse of the motmot, El Salvador's multicolored national bird. While in southern, central or eastern Africa, keep your eyes peeled for the elusive pangolin. Or spot the "Big Five" — the African lion, the African rhinoceros, the African elephant, the African leopard and the Cape buffalo — in 13 countries in Africa, with Namibia, South Africa, Kenya, Tanzania and Botswana being your best bets for seeing them on safari. Have you heard of gorilla trekking? Oh, shit! It's a thing. And you can try it in Rwanda or Uganda.
7. They boast some of the best beaches
Are beautiful beaches one of the requirements to qualify for "shithole" status? It certainly seems so. If you seek sun, sand and sea, you'll be spoiled for choice in the Caribbean country of Haiti, the 115-island African archipelago of the Seychelles and the African island nations of Mauritius and Madagascar. The African continent also has plenty of coastline, which means an abundance of opportunities to spy a spotted stingray while snorkeling, observe sea turtles hatching, catch a wave surfing, watch the sun setting or just enjoy the solitude of a serene stretch of beach. Doesn't that sound downright dreadful? So shitty.
8. They offer endless outdoor adventures
There are so many ways to enjoy the great "shithole" outdoors. Soak in some hot springs and hike the rainforests of El Salvador. Snorkel in the sea, venture out on a safari or trek a mountain on the African continent. Or kick back and enjoy the warm sun, the sound of waves and the sway of palm trees in Haiti. The magnificent Mount Kilimanjaro and the majestical Serengeti? Yup — both are located in "shithole" countries.
9. ...and a wealth of culture and traditions
Whichever "shithole" country you visit, you are bound to be introduced to a variety of cultures and traditions. You may hear Haitian music with influences from African, Caribbean, Spanish and French cultures. Or maybe you'll see a traditional Salvadoran dance, complete with brightly colored, twirling skirts. Or you might experience a diversity of tribal cultures on the African continent, each with their own traditions. There are so many opportunities to learn about your fellow humans. Ugh, how shitty is that?
10. They'll expand your world
The world is big and broad and much more beautiful and complex than any one story, photo or derogatory comment can convey. Perhaps the best reason to visit a "shithole" country is to see for yourself. Walk the streets. Eat the food. Meet the people. You just might find that one president's trash is another person's dream destination.