Your guide to the cast of Netflix's new 'Queer Eye' reboot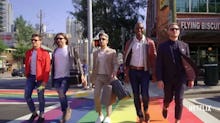 On Wednesday, Netflix released a new trailer for its upcoming series Queer Eye, a reboot of the early-aughts makeover show originally titled Queer Eye for the Straight Guy, and the fresh look offers an introduction to the brand new "Fab Five."
The original show, which featured a panel of five gay experts who offered their talents in various fields (fashion, personal grooming, etc.) to hapless straight dudes with messy apartments, was both criticized for promoting stereotypes of gay men and lauded for bringing gay culture into the mainstream.
In 2017, Netflix announced it was rebooting the series, and the latest trailer seems to deliver on the promise that it'll be an updated version of the original show, with all of the feel-good, heartwarming moments and, possibly, fewer of the flat generalizations about sexuality.
Here's a guide to the all-new cast who will appear in Queer Eye, which premieres on Netflix on Feb. 7.
Antoni Porowski, food and wine
Porowski will follow in the footsteps of Ted Allen, who was the food and wine guy in the original Queer Eye and went on to become a celebrity food personality in his own right as the host of Chopped. According to Entertainment Weekly, Porowski was actually Allen's personal chef, and Allen helped land him the role on the new show.
"Mr. Antoni. He's just so filled with passion and he's scarily smart," series creator David Collins told EW in 2017. "He was actually Ted [Allen]'s protégé. Ted sent him our way and we couldn't be happier. He's got that adorable face and you just want to squeeze his little head off. He's so, so smart, he's very well read, and his sense of passion and taste is beautiful as well."
In addition to his work with Allen, Antoni also has some acting credits and his Instagram is filled with photos of cooking and baking projects.
Bobby Berk, interior design
Berk, who takes up the role filled by Thom Filicia in the original Queer Eye series, is a designer with a home-furnishings website and an interior-design business.
"Bobby, aside from being crazily talented — he's so, so good with what he does with his style and his design work — Bobby is a guy who worked really hard to get where he is," Collins told EW in 2017. "He'll tell you, he's a kid who grew up with nothing and really fought hard to really do well for himself. He's a hard worker, he's a really hard worker, and he brought that to the table."
Karamo Brown, culture
Queer Eye won't be Brown's first time on television — he appeared on MTV's The Real World: Philadelphia as the first out gay black man on the long-running reality show. He also had a career as a social worker in the years following his time on The Real World.
He'll follow in the footsteps of Jai Rodriguez, the culture guru in the original Queer Eye series. "Karamo is just the epitome of style and taste and class. He's so charismatic, he pulls you right in, smart as a whip," Collins told EW.
Jonathan Van Ness, grooming
Van Ness, a stylist who also stars in the popular Game of Thrones recap web series Gay of Thrones, will be the official grooming expert in the Queer Eye reboot — a role filled by Kyan Douglas in the original series. He fell into on-camera work, as he described it in an interview with Nerdist in 2014, because he happened do be doing hair in the right place at the right time.
"Gay of Thrones happened because I do this woman's hair, Erin Gibson, she is a writer/director at Funny or Die, and I've been doing her hair for years," Van Ness said. "And I just remember back in 2012, I was just doing her hair like normal and the guy in the chair next to me started talking about Game of Thrones and I was like, 'Oh my god I love that show,' and then I did an impromptu recap of it."
Tan France, fashion
France will be the new fashion expert in the Queer Eye reboot, following on the heels of Carson Kressley, who had the same role in the original. According to Out.com, France, who is British, has worked as a designer at the fashion line Kingdom and State.
"Tan… style and class… he is the full picture there. His sense of posh is just beautiful," Collins told EW. "He's also got that edge to him."