'Throwback ThursDate': Dating with dwarfism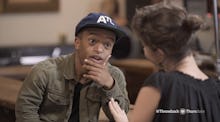 Rance Nix is a 26-year-old Atlanta native pursuing acting in New York City. The actor described himself as "super single" and said he's never experienced a long-term relationship — possibly because Nix has genetic disorder Achondroplasia, a type of dwarfism that occurs in one in every 15,000 to 40,000 live births.
Even in our height-obsessed generation of online dating, at 4 feet 6 inches tall, Nix maintains a positive outlook on dating. "Everybody has their preconceived notions, and everybody has what they [prefer] in another person," Nix said in an interview. "Whether you're in a wheelchair, whether you're a little person, whether you're black, white, skinny, fat, you may meet someone that's into you and into your uniqueness."
In the past, Nix said he has felt the need to defend his humanity to others. "If people ask … I do my best to show them, 'Hey, we're people too,'" he said. Nix doesn't think his height should ever act as a barrier against his big dreams, which include modeling for Yeezy and hosting his own late night variety show.
"My dating philosophy is: stay patient; don't let dating define you; don't let your singleness define you; don't let your relationship define you," he said.
For the premiere of Throwback ThursDate on Facebook Watch, Nix goes on a blind date with a surprise guest: his and his date's social media history.